With the bounty of our gardens coming to a peak this time of year, you may be looking for more ways to use up some of that abundant harvest. This is where making long-lasting tonics like elderberry fire cider or garden-to-table recipes like fermented giardiniera and quick pickled vegetables really shines.
These recipes help use up the odds and ends and over-abundant produce so that we may enjoy them for weeks and months to come. The bright flavors of the peppers, ginger, garlic, and onion paired with the sharp and clarifying properties of horseradish can add a touch of summer to even the coldest time of year.
What is Fire Cider?
You may wonder, "what the heck is fire cider?". To put it simply, fire cider is a folk remedy made with vinegar that's been infused with fresh aromatics like onion, garlic, ginger, and chilis. It's spicy, zesty, and refreshing depending on your ingredients. It helps support digestion, circulation, and general wellness during the winter months.
Today, we're going to focus on making a delicious elderberry fire cider that can be used in a myriad of ways, from seasonal wellness support to flavoring roasts, soups, and stir fry.
How to Make Elderberry Fire Cider
I've been making some variation of fire cider for over a decade, and every year it's a little bit different depending on what's growing in the garden.
Some years it's straight-up and simple, using just garlic, onions, and chilis, while in other years, like this time around, I've decided to add some flair and threw dried elderberries into the mix.
However you choose to make your own fire cider at home, the variations are endless and almost always delicious, so don't be afraid to get creative!
How to Make Fire Cider with Elderberries
This recipe has quite a bit of spice to it, so feel free to adjust the number or type of chilis you decide to use.
For this recipe, you will need:
A ½ gallon mason jar with a plastic lid (if you use a metal lid, the vinegar will corrode it and ruin the fire cider)
Raw apple cider vinegar (I use Braggs)
1 whole onion, chopped
1 whole head of garlic (just smash the unpeeled cloves and toss them in)
A large knob of fresh ginger root, sliced
A 6-8 inch fresh horseradish root, peeled and sliced
1 whole lemon, juiced and zested (seeds removed)
Several fresh hot peppers, whole or sliced (I used about 10 cayenne peppers – this is A LOT, so feel free to adjust)
A sprig of fresh rosemary
A few sprigs of fresh thyme
¼-½ cup of dried elderberries
½ TB peppercorns
½ TB coriander seeds
½ TB turmeric powder (use a knob of fresh turmeric if you have it, sliced)
½ cup of raw honey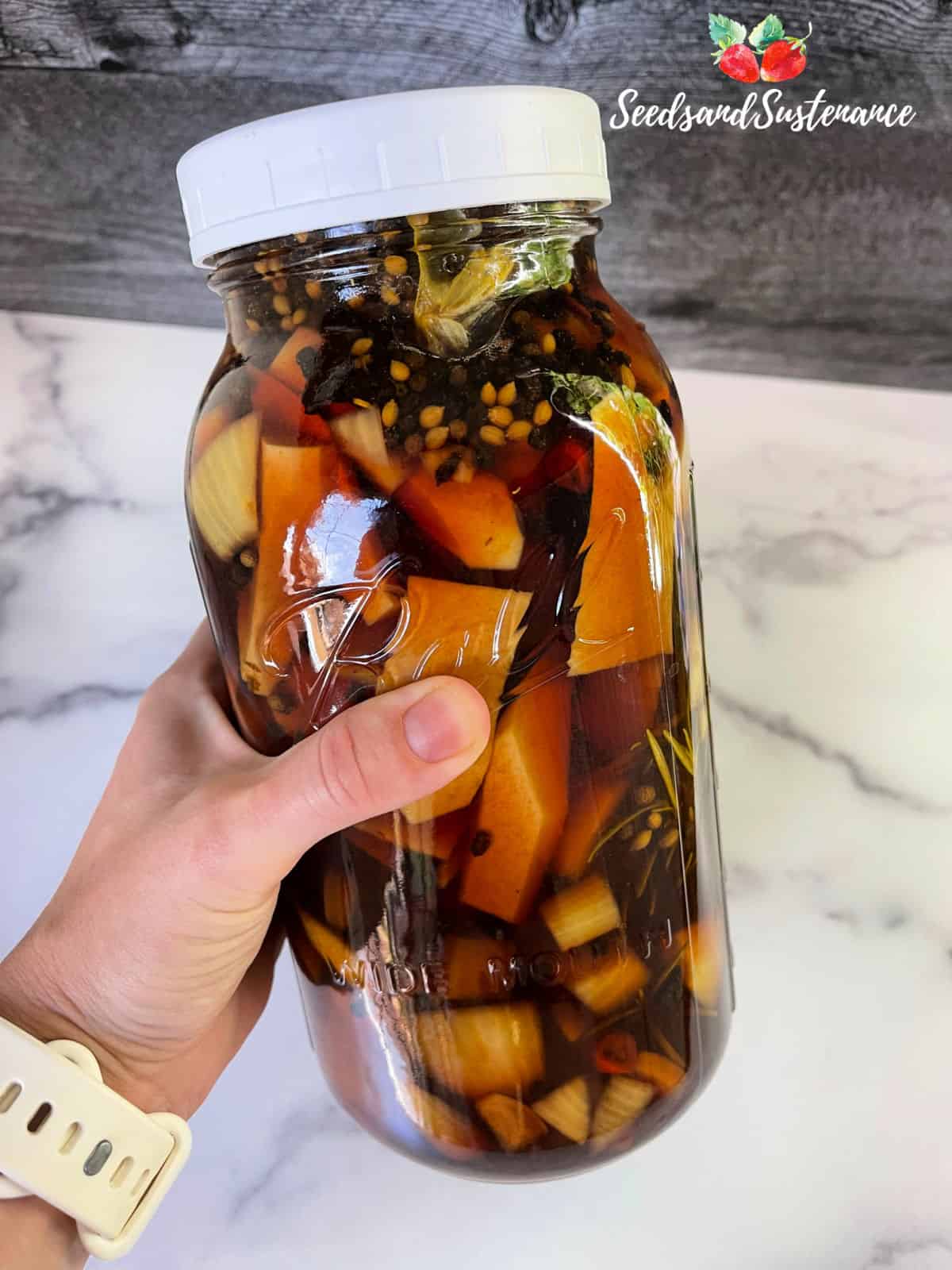 Preparation
Begin by adding the dried ingredients first to help them soak up the vinegar and stay submerged under the fresh ingredients. I forgot to do this step and all of my spices keep floating at the top. This isn't really a huge issue, you just have to keep shaking the jar daily for a few days to help them infuse their flavors into the fire cider.
Next, layer all of the fresh ingredients and herbs into the jar.
Fill the jar almost to the top with raw apple cider vinegar.
Cap the jar closed and do not shake it yet! This will allow most of the dried ingredients to stay at the bottom and soak up the vinegar. Allow the jar to sit for 24 hours before shaking.
Label the jar with "Elderberry Fire Cider" and the date and keep it on your kitchen counter out of direct sunlight for a few days. Shake the contents periodically and top up the jar with more vinegar as needed. This is because the ingredients will soak up the vinegar, so you will need to check on it and make sure to add more for the first week or so.
After that, tuck the jar away in a cool dark place and allow it to infuse for 4-6 weeks.
Once infused, strain the fire cider using a mesh strainer over a large glass bowl. If you want to get as much liquid out as possible, you can blend everything in a high-power blender like a Vitamix. While wearing gloves, pour the contents into a nut milk bag or fine mesh strainer and squeeze out as much liquid as possible into a large glass bowl.
Stir in ½ of raw honey until completely dissolved.
Carefully pour the finished fire cider into your storage vessel of choice, like a quart-sized jar. I like to use a wide-mouth funnel for this to prevent a huge mess.
Cap closed with a plastic lid (again, to avoid an icky metallic flavor) and store the finished product in a cool dark place.
Fire cider will last for a whole year or longer!
Use it in marinades or salad dressing, or even add it to hot water to make it into a tea to help support seasonal wellness. It's actually quite nice on a cold day to help warm you up from the inside out.
However you choose to make it, I know you'll make fire cider a must-have in your pantry every year!
What Substitutes or Additions Can You Add to Fire Cider?
You can use so many different things!
Some ingredients to consider include: