Sometimes you just don't have any red onion on hand to make pickled red onions, and so I raise you pickled white onions! They're just as delicious, perhaps even more so than their purple counterpart.
In today's recipe, I'll show you how to make a delicious white pickled onions recipe that's perfect for stirring into dips, added to salad dressings, and of course, as a topping for anything that requires a tangy yet sweet punch of flavor.
Your tacos have never been happier.
How to Make My Favorite Pickled White Onions Recipe
This recipe is super simple to throw together, and it will last in your fridge for several months – that's assuming it doesn't get devoured immediately.
They're full-flavored, tangy, sweet, and add that perfect element of crunch to tacos, potato salad, sandwiches, soups, dips… you name it.
Here's what you're going to need to make super tasty pickled white onions:
How to Prepare White Pickled Onions
In a small pot over medium heat, combine the white wine vinegar, apple cider vinegar, sugar, and salt. Bring it to a gentle simmer. I prefer a small pot over a saucepan for this, as it's easier to pour the brine into a jar without spilling.
Stir the vinegar solution (brine) until the sugar and salt dissolve completely. Turn off the heat.
To a 32 oz mason jar, add the thinly sliced onion, the smashed garlic, and the oregano.
Next, using a mason jar funnel if you have one, carefully pour the brine over the top, making sure that everything is completely submerged.
Cap it closed with a plastic lid and allow it to cool to room temperature before storing it in the fridge.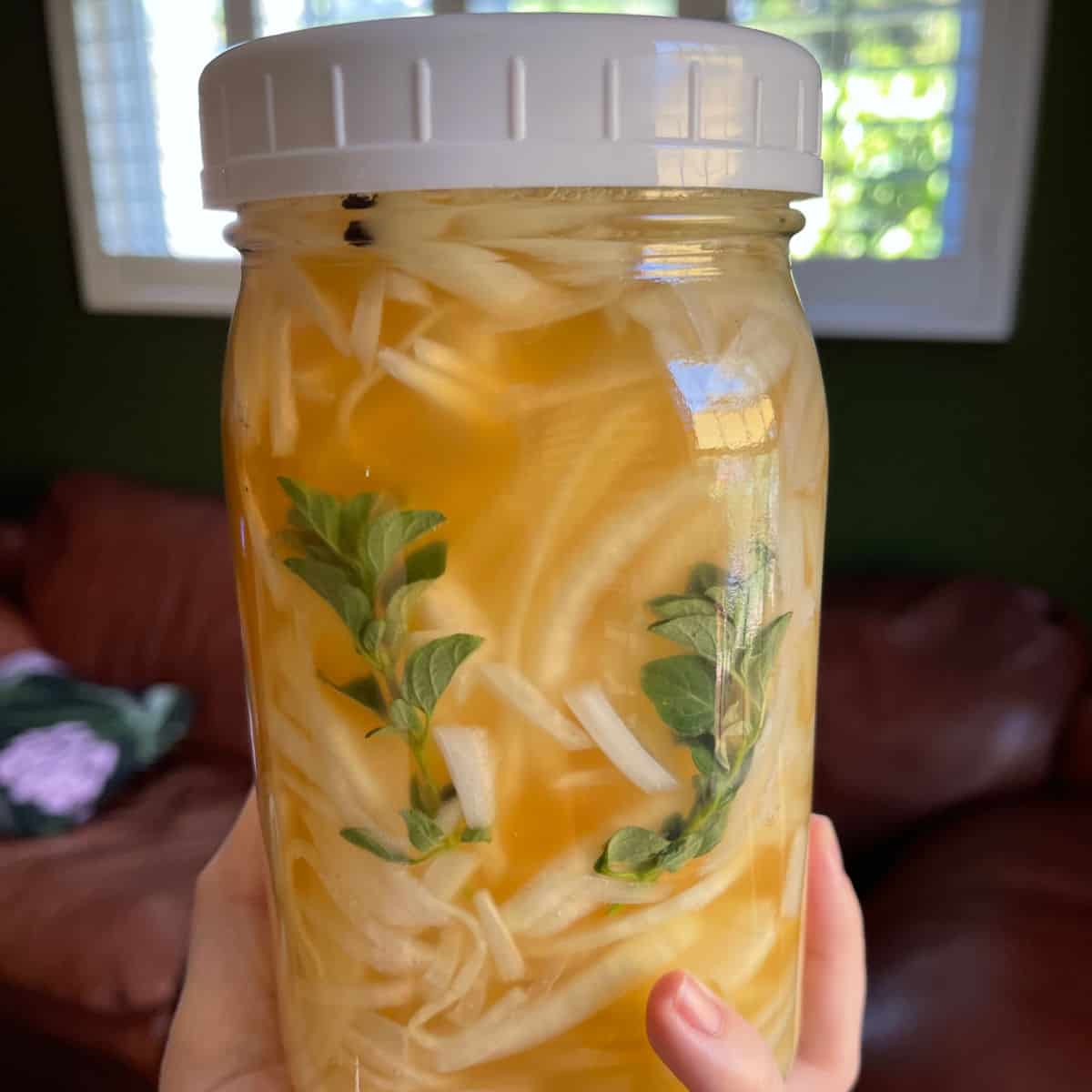 These delicious pickled white onions are ready to eat after about 30 minutes, but I highly recommend letting them marinate longer. This will give the vinegar brine a chance to infuse the onions with a tasty, tangy flavor.
Store them in the fridge for up to 3 months – IF they last that long!
The longer they infuse, the better they taste!
Toss them onto salads, tacos, sandwiches, soups, stews – everything!
Be sure to check out my mild giardiniera recipe for more pickled goodness!