As the weather becomes steadily warmer here in zone 10, I find myself reminiscing over the colors and flavors of crops to come. Most of what's planted in the garden beds was carefully sown way back in January in anticipation of these moments. A little early? Sure! But I have never been known to be a patient person. Perhaps this blog should have been called The Impatient Gardener.
It feels like it's been forever since I planted this season's seeds and even longer for my seedlings to take off, but now, as I stroll through my garden, I can finally see the first fruits of my labor.
The first tiny tomatoes, a perfect pattypan squash, and a few handfuls of fresh dragon tongue beans.
This is just the beginning.
So, before things get too out of control as they tend to do in the upcoming weeks, I thought it prudent to share what I'm growing this season.
Let's dive in!
What I'm Growing This Season (Summer 2022)
In the front yard gardens, I currently have three 4x8 raised beds, a 5x8 keyhole bed from Vegogarden, 4 Greenstalk vertical planters, and a number of 5-gallon pots and planters sprinkled about to fill in any gaps.
Raised Bed #1
In the first 4x8 raised bed, I'm growing tons of heirloom tomatoes.
The varieties include:
• Abe Lincoln – an old-fashioned red beefsteak variety
• Black Beauty – A variety that turns blue-black in when grown in good sunlight. Has a rich, smooth, and savory flavor.
• Cherokee Purple (a repeat from last year – delicious!) – A dark tomato with excellent old-timey flavor.
• Black Krim – Another dark tomato variety with superb sweet and juicy, complex flavor.
• Thorburn's Terra-Cotta – A visual show-stopper with terra-cotta-toned skin and orange-pink flesh. Has a deliciously complex flavor.
• Paul Robeson – A tomato with a cult following – I had to try it!
• Dr. Wyche's Yellow Tomato – A bright and fruity variety with tropical undertones.
• Aunt Ruby's German Green Tomato – Has superior flavor even over red varieties. I cannot wait to try it.
• Ananas Noir – A beautiful tomato with bright green flesh streaked with red with a sweet, smoky, and slightly citrusy flavor.
• Green Giant (another repeat from last year – an absolute must grow!) An outstanding tomato with outstanding flavor!
• German Pink Tomato – A large tomato with a sweet floral flavor.
• Berkeley Pink Tie-Dye – a beautiful tomato with pink flesh striped with green. Has a very sweet, rich, and robust tomato flavor.
Most of these varieties are brand new this year, and I cannot wait to try them out! My goal is to find the perfect mix of tomatoes that I will want to grow year after year.
So far, I have really enjoyed the deep and complex flavor of Cherokee Purple as well as the surprisingly robust and flavorful Green Giant. If you haven't tried these varieties, please do!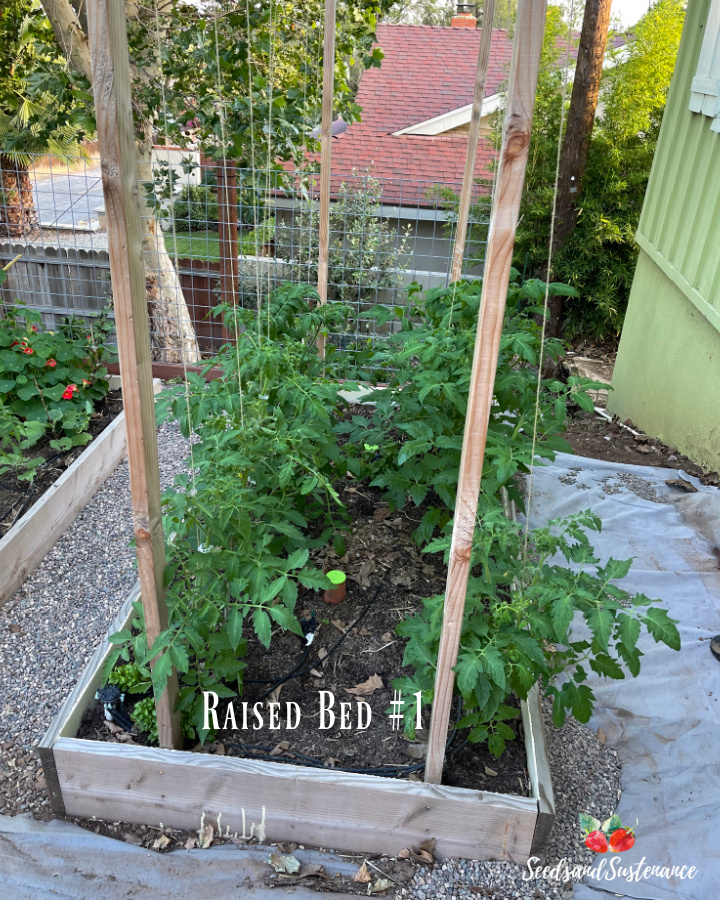 Raised Bed #2
In the second raised bed, I have quite a few different things planted including:
• Dragon's Egg Cucumber – An interesting cucumber that looks like a large egg with a mild and bitter-free flavor. Supposed to have prolific yields.
• Persian Cucumber – My personal favorite for salads and snacking.
• Sugar Rush Peach Pepper (overwintered from last year) – A hot pepper with fruity peach flavor. Great for homemade hot sauce!
• Anaheim Pepper (overwintered from last year) – A mildly hot pepper that's excellent for frying and roasting.
• Sugar Rush Cream Pepper – A tropical-flavored pepper with less heat.
• Chinese String Eggplant – A slender and delicious variety of eggplant. One of the best tasting!
• Ping Tung Eggplant – One of the best-tasting eggplant varieties.
• Japanese Eggplant (overwintered from last year) – A very steady producer of large and creamy eggplant. Excellent for stir-fry.
• Thorburn's Terra-Cotta Tomato
• Black Beauty Tomato
• Black Krim Tomato
• Paul Robeson Tomato
The cucumber varieties are growing up some cattle panels that arch into the next bed in order to save space and hopefully curb certain diseases like powdery mildew. It also makes for easy harvesting, not to mention it looks lovely in the garden when the trellises are grown in.
I'm hoping to get better yields from the sugar rush peach and Anaheim peppers this year, but they may need to be moved to a more full-sun bed. We shall see!
Since the weather has been so up and down this year (crazy fluctuations from cold to heat-have status hot) diseases have already been a problem. The eggplants have to be sprayed weekly for spider mites in order to keep them under control, and powdery mildew keeps cropping up on the cucumbers. You can learn how to make my spider mite spray HERE.
It seems like my work is going to be cut out for me this season which is a bit unfortunate since I'm expecting my second baby in a few short weeks.
Hopefully, we can keep up, but I'm not feeling super optimistic.
Raised Bed #3
This bed is much sparser than I was planning this season, mostly due to a few toddler-induced seedling casualties. I didn't have time to sow more seedlings, so instead, I opted to try growing a second session of pole beans and sweet peas to see what would happen.
So far, this bed contains:
• Lemon Squash – Looks like a lemon! Had great flavor and yields with an added bonus – high resistance to insects!
• White Scallop Squash – One of the best-tasting scallop squash varieties with great yields.
• Sikkim Cucumber – An unusual cucumber with skin like a dark cantaloupe! A delicious and prolific variety.
• Green Beauty Snow Pea – A large snow pea variety with delicious and tender pods.
• Scarlet Emperor Pole Snap Beans – These produce beautiful flowers and tasty bean pods.
The pole beans and peas will be growing up the cattle panels in this bed to create a beautiful archway in the garden for bees, hummingbirds, and ME to enjoy. I'm hoping that these do well in a shadier section of the garden since they like cooler temperatures, but time will tell.
So far, the squash is starting to get tiny spots of powdery mildew already from the strange weather we've been having.
The Keyhole Bed
This has to be my new favorite garden bed. It's positioned in full sun and has great size and shape to it.
I have packed it FULL of the following:
• Black Cherry Tomato – Have the rich tomato flavor dark varieties have.
• Bull's Blood Beet – Large and sweet!
• California Wonder Bell Pepper – A fantastic standard variety that produces fruit with juicy thick walls.
• Cayenne Pepper – A must-have for fire cider making and for cayenne pepper powder.
• Daikon Radish – Sweet and crisp, perfect for miso soup.
• Fordhook Zucchini – A classic! Has tender and creamy flesh.
• Green Tomatillo – Produces huge yields of richly flavored tomatillos. A must-have for salsa verde!
• Jimmy Nardello Pepper – A prolific pepper that's perfect for frying.
• Lemon Drop Watermelon – Small, early producing, and completely yellow! They have a candy-sweet flavor with a refreshing crisp texture.
• Lemon Squash
• Magnolia Blossom Snap Pea – These peas produce not only lovely and delicious peas but also incredible blossoms that attract bees and hummingbirds.
• Pepperoncini Pepper – The perfect pepper for pickling with great flavor and a little heat.
• Poblano Pepper – The classic pepper used for making Chili Rellenos.
• Serrano Pepper – My husband's favorite! Longer, thinner peppers than a jalapeno with a bit more heat.
• Shishito Pepper – A delicious Japanese variety that's delicious when fried.
• Sora Radish – This more heat-tolerant variety keeps its crisp texture even in warm weather.
• Romance F1 Carrot – A well-rounded flavored carrot that is suitable for warmer weather.
• Sungold Cherry Tomato – A bright orange variety with an intensely sweet and fruity flavor.
• Tondo Scuro Zucchini – An eight-ball-shaped zucchini variety with fantastic flavor.
• White Scallop Squash
• Zapotec Jalapeno – A gourmet style jalapeno that packs a bit more flavor and heat than standard jalapenos.
We shall see how this bed does! I loosely followed the square-foot gardening method so I wonder how packed this bed is going to feel in just a few short weeks. It gets excellent sunlight, so I expect everything to do really well.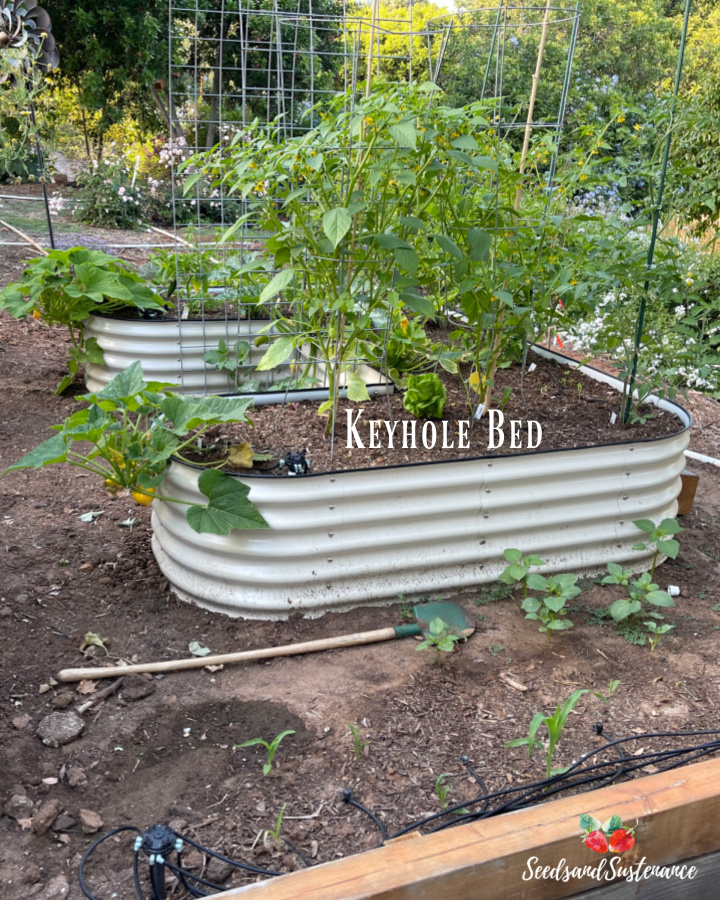 Front Yard Garden Pots and In-Ground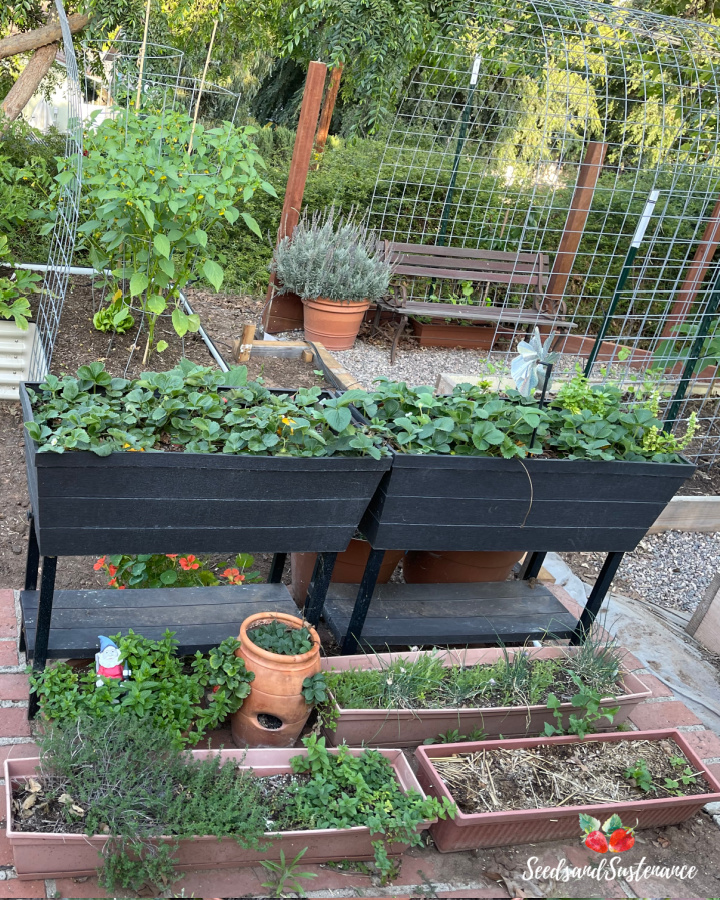 • Angel Hair Spaghetti Squash – A smaller-sized variety that is perfect for single servings. The plants are high-yielding.
• Arctic Raspberries – A groundcover variety of raspberries that produces one pound of fruit per plant!
• Charleston Grey Watermelon – Grows 20-40 pound fruit that's one of the best American varieties.
• Chives – A must-have herb for every garden.
• Golden Jenny Melon – Produces 2-pound golden fleshed fruit similar to cantaloupe.
• Kabocha Squash – A Japanese variety with sweet, dense, and delicious flesh. My favorite winter squash!
• Orange Butternut Squash – An orange-rind variety with high yields and excellent flavor.
• Peppermint – Another must-have herb for the garden. I use this in cocktails and lemonade.
• Strawberry Watermelon – Produces 15-25 pound fruit with fine-grained and super sweet flesh.
I've had pretty good success growing squash in containers in the past, and since I've pretty much run out of room everywhere else, I decided to go with pots again this year.
The watermelons are directly sown in what will one day become our front lawn, so I'm taking advantage of the space again this year to let the vines really spread out.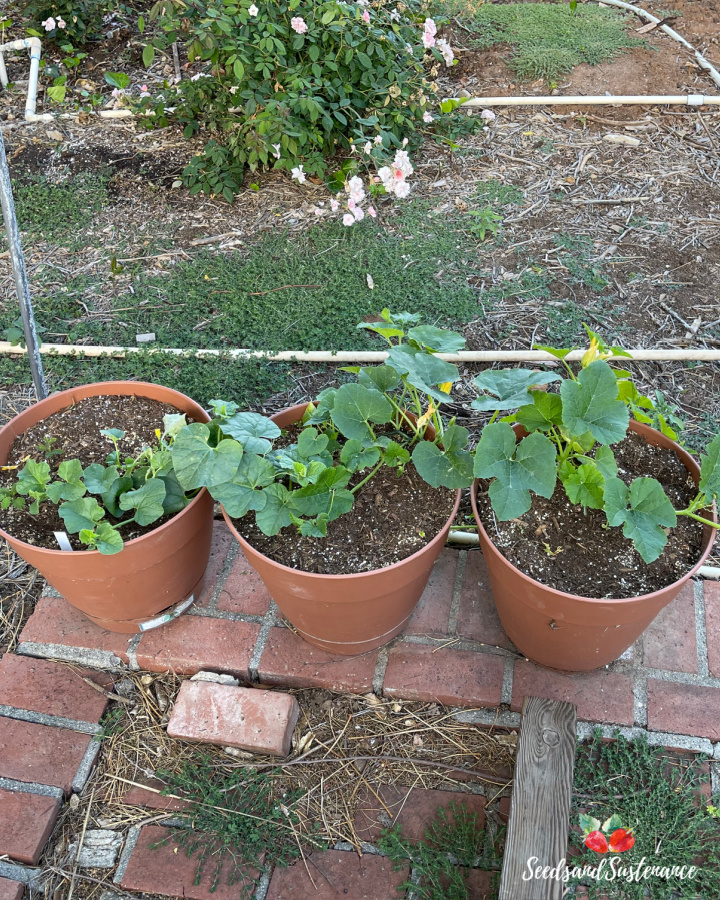 Greenstalk Vertical Planters
• Bok Choi (Summer varieties – Black Summer and Joi Choi) – these varieties tend to last a bit longer in the summer months.
• Chamomile – great for drying for tea.
• English Thyme – A must-have herb for the kitchen.
• Green Onions (sprouted from the grocery store) – I literally saved the rooted bottoms and stuck them in the soil. Now I have nearly endless green onions!
• Late Nagasaki Cabbage – Perfect for hotpot, soups, and stir fry! A definite staple in my garden.
• Lettuce (Summer varieties – Coastal Star, Adriana, Muir, Cherokee, Skyphos, Starfighter, Marvel of Four Seasons) – These varieties are slower to bolt in warmer weather.
• Oregano – Great for Mexican-style dishes.
• Parsley – Always need a bit of parsley growing in the garden for the kitchen.
• Tatsoi – Similar to bok choi with a sweet and mild flavor that's great in hotpot and stir fry.
• Thai Basil – One of my favorite types of basil! Fantastic added fresh to grilled meats and stir fry.
These are just a complete mix of things, really. Lettuce, kale, beans, greens, herbs – you name it. Unfortunately, there are still a lot of holes to be filled.
The birds LOVE eating the fresh, tender seedlings, so I think I'm going to stop direct sowing seeds in these, especially in the top sections. It's very rare that anything makes it long enough not to be noticed by the resident scrub jays, and frankly, I'm tired of wasting seed at this point.
It's time to fight back! We shall see how that goes with a newborn in the coming months.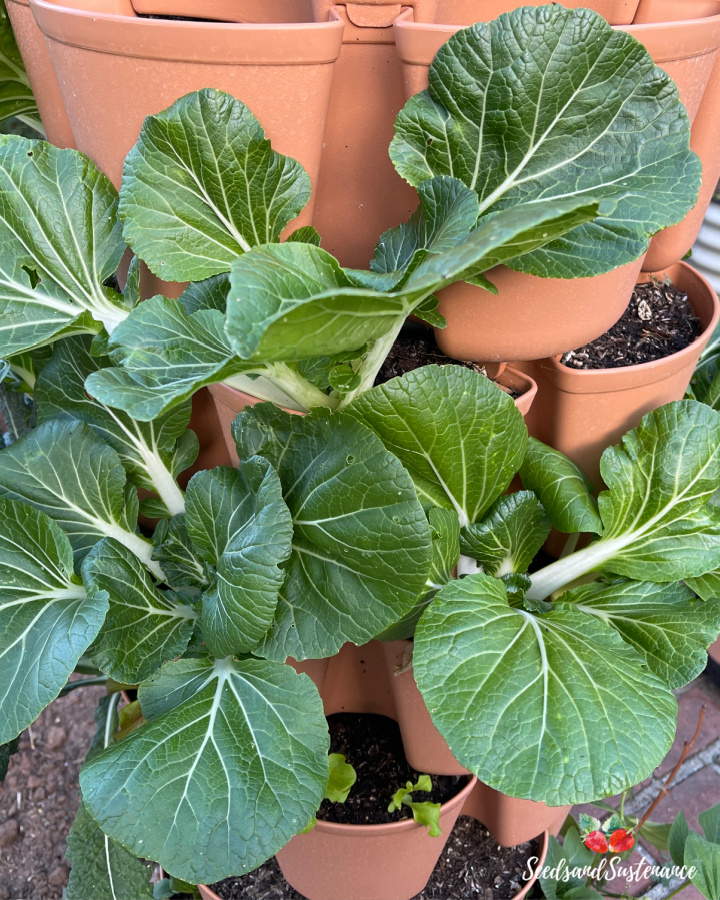 Side of the House Garden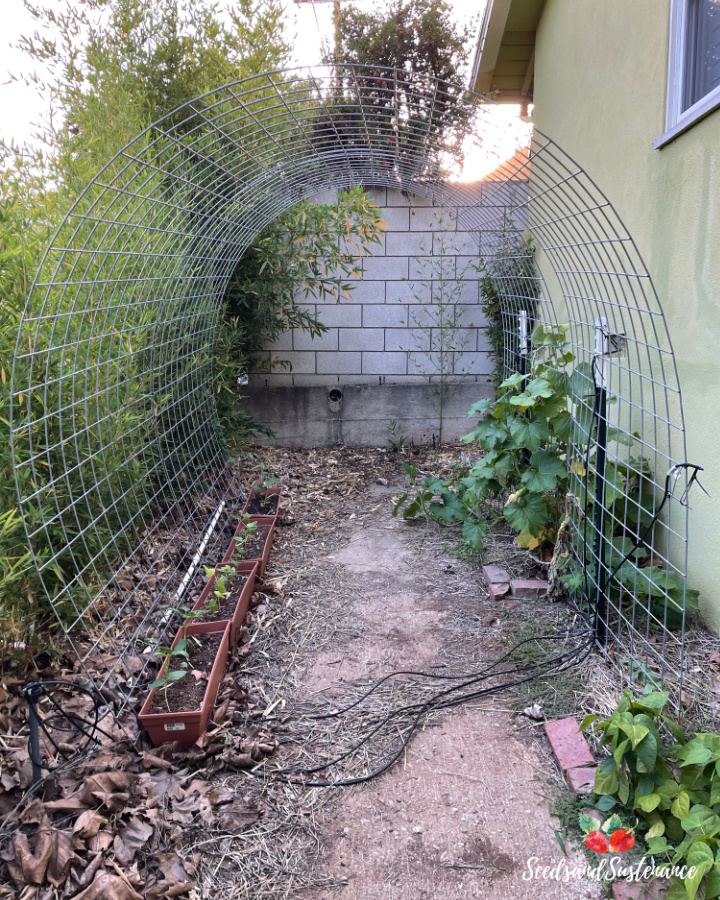 • Butterbaby Butternut Squash – A mini variety of butternut squash that is perfect for two people that has great flavor.
• Chinese Green Noodle Bean – 20-inch pods with great flavor and texture! Wonderful when added to stir fry or oven-roasted.
• Chinese Red Noodle Bean – 18-inch pods that retain their beautiful color even when cooked. A favorite in my family!
• Dragon Tongue Bean – A super delicious variety from Denmark. Another family favorite.
• Tongues of Fire Bean – A strikingly colorful bean with great flavor! Really fun to grow even just for the beautiful color-streaked pods.
• Atomic Grape Tomato – A really wild-colored tomato with a really complex flavor. Delicate plants, but worth growing.
• Atomic Fusion Tomato – The larger version of Atomic Grape. Can't wait to try it!
• Green Giant Tomato
• German Pink Tomato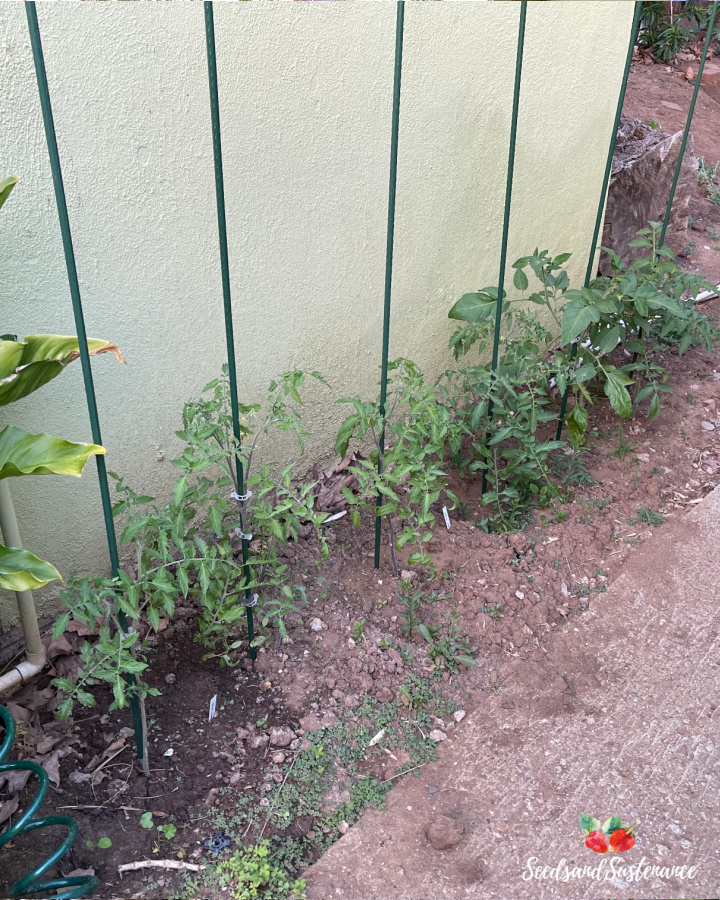 This part of the yard has a couple of cattle panel archways for growing noodle beans and a long swath of soil for bush beans and extra tomato plants.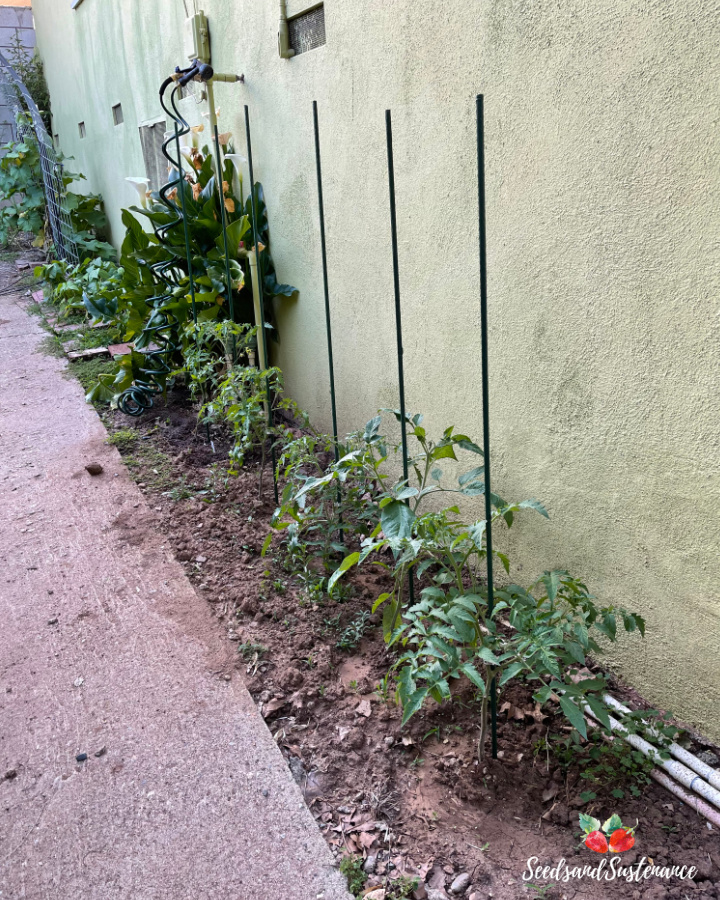 This year, the beans have been ravaged multiple times by cutworms, but I'm finally getting a few plants going. Now, if only I could totally get rid of the spider mites! Even with spraying once a week with my homemade spider mite-killing spray, they just keep coming back if I go too long between treatments. The weather fluctuations have been a real headache this year.
Hopefully, everything does well.
Backyard Garden Beds
• Barry's Crazy Tomato – A yellow variety of cherry tomato with delicious flavor and mind-boggling yields.
• Black Strawberry Tomato – A gorgeous cherry tomato variety with sugar-sweet flavor.
• Blauhilde Bean – A German pole bean variety with vines that reach 9 feet! Beautiful purple color and rich flavor.
• Cantare Bean – An outstanding green bean variety with 3-4 inch pods.
• Delicata Squash – 1-3 pound fruit with super sweet flesh. Perfect for roasting.
• Husky Cherry Tomato – A tried and true red cherry tomato that's perfect for salads.
• Kajari Melon – An Indian variety of melons that produces tons of sweet 2-pound fruit.
• Minnesota Midget Melon – A tiny cantaloup-style variety with sweet flesh and high yields. Vines stay a few feet long, so it's perfect for small spaces.
• Noah's Grape Tomato – A red grape tomato variety with delicious flavor and crazy yields.
• Red Swan Bush Bean – Another beautifully bush bean variety with red pods! Delicious flavor.
• Strawberry Corn – A popcorn variety that produces beautiful 2-3 inch ears.
• Tankuro Edamame – Has superior flavor and a vigorous growth habit.
• Tatsoi
These backyard beds were planted in a very chaotic hodge-podge sort of way since I did it with my toddler in tow.
There have been numerous plant casualties and attempts to replant a few things, but we shall see! I'm hoping that the cherry tomatoes will at least make it long enough to produce since cherry tomatoes are my daughter's favorite snack.
I'm growing a few insanely productive varieties that I'm hoping to use for canning, like salsa and spaghetti sauce.
Again, with my second baby due mid-May, we shall see how those dreams turn out.
Where did I get the seeds?
Baker Creek
Johnny Seeds
Logee's
Grow Your Heirlooms