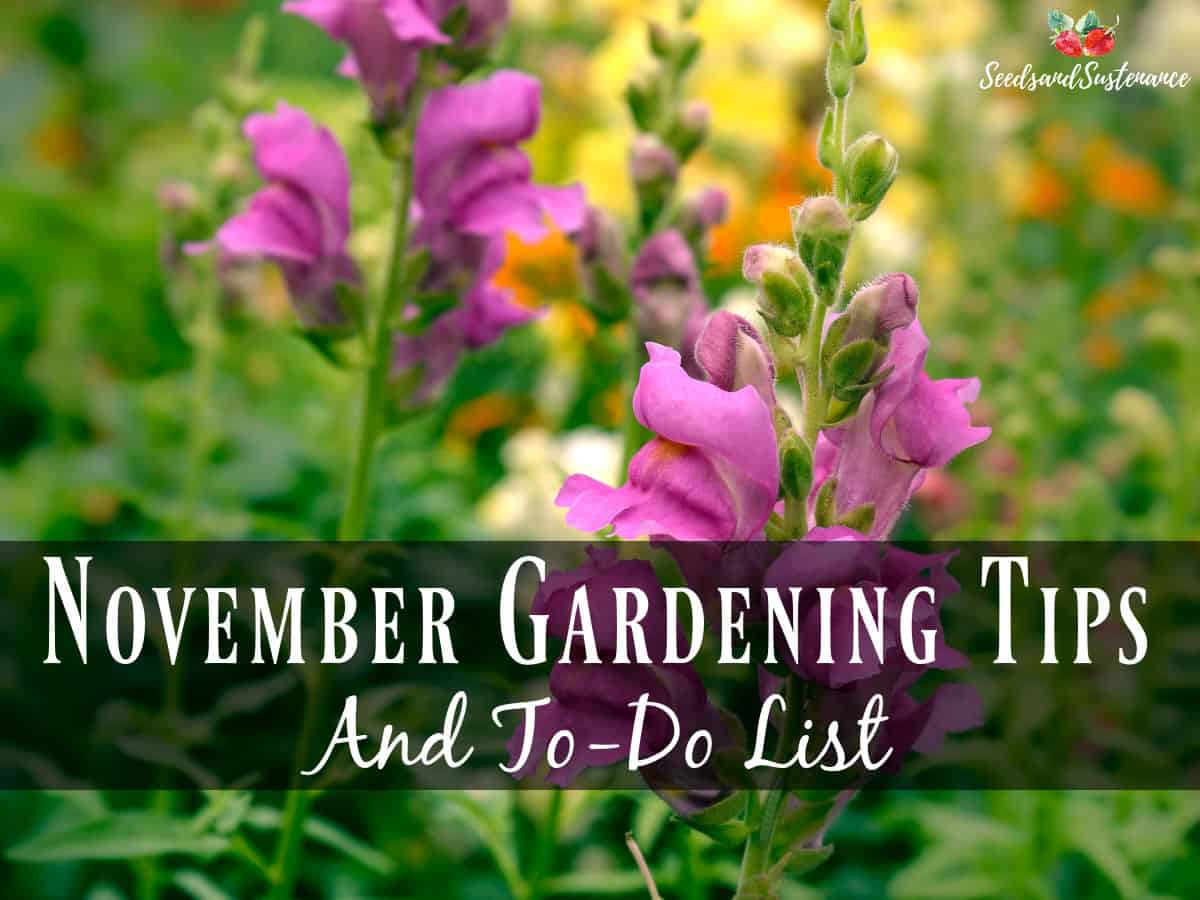 The days are getting shorter, and the weather is getting cooler, but that doesn't mean it's time to put your garden away for the winter! There are still plenty of things you can do in your garden in November to prepare for the colder months ahead. Today, we'll discuss some of the best gardening tips for November in Southern California for zones 9 and 10, so keep reading to learn more!
November Gardening Tips for Southern California
November is another busy month for gardening! There is so much to grow and harvest, even in these cooler months of the year.
Here are my top tips to ensure your zone 9 and 10 garden is a success!
Pay Attention to Your Soil
One of the most important tasks for November is to give your soil some extra careful attention. Soil care is essential for ensuring that your garden stays healthy and maintains a good balance of nutrients.
This is especially important for us gardeners in zones 9 and 10 because we are able to plant crops all year long. If we don't take special care when it comes to replenishing our soil, our future crops are more likely to suffer compared to other zones where there is no choice but to rest the soil during the winter.
Applying ample amounts of organic compost or organic fertilizer can help improve the structure and fertility of your soil, as well as provide additional protection against the rare yet potential occurrence of frost damage this season.
Additionally, be sure to check on existing mulch layers around plants and replace anything that has degraded over time. A good 2-3 inches is perfect for stronger plants and seedlings (like garlic!). For weaker seedlings like onion shoots or greens like lettuce, it's best to pull back the mulch layer until the plants are more established.
Because of this November's milder temperatures here in Southern California, this month is the perfect time to inoculate your soil with beneficial mycorrhizal.
Soil temperatures are just right for quick establishment, and the process can be done quickly without very much effort and it's super good for the garden! All you need to do is poke a hole near your crops and drop a mycorrhizae tablet into it and voila! You just set the stage for awesome soil in the upcoming season.
You can get the mycorrhizal granules I use HERE.
Get The Garden Cleaned Up
November is also a great time to assess and clean up your garden. Since we planted our fall and winter crops back in September, things should be relatively hands-off at this point as growth starts to slow down during these shorter days.
Take advantage of this downtime to take a close look at plants that haven't been performing well and remove or prune anything dead or diseased. You can even start mulching around your trees if you haven't done so already, as this will help protect their roots from cooler temperatures.
November is also the best time of year to start thinking about next spring's garden, as well as completing a few tasks and projects that will help ensure your home garden thrives all year long.
Take notes in your gardening journal on what worked and what didn't in your garden this season, and plan how you want to change things up in the future. You can also check out some new plants or varieties that might be suitable for your zone 9 or 10 garden.
This is the perfect time of year to study your stack of seed catalogs and take notes on varieties that interest you.
Look for varieties that have improved disease and pest resistance, for example.
November Gardening Tips for Annuals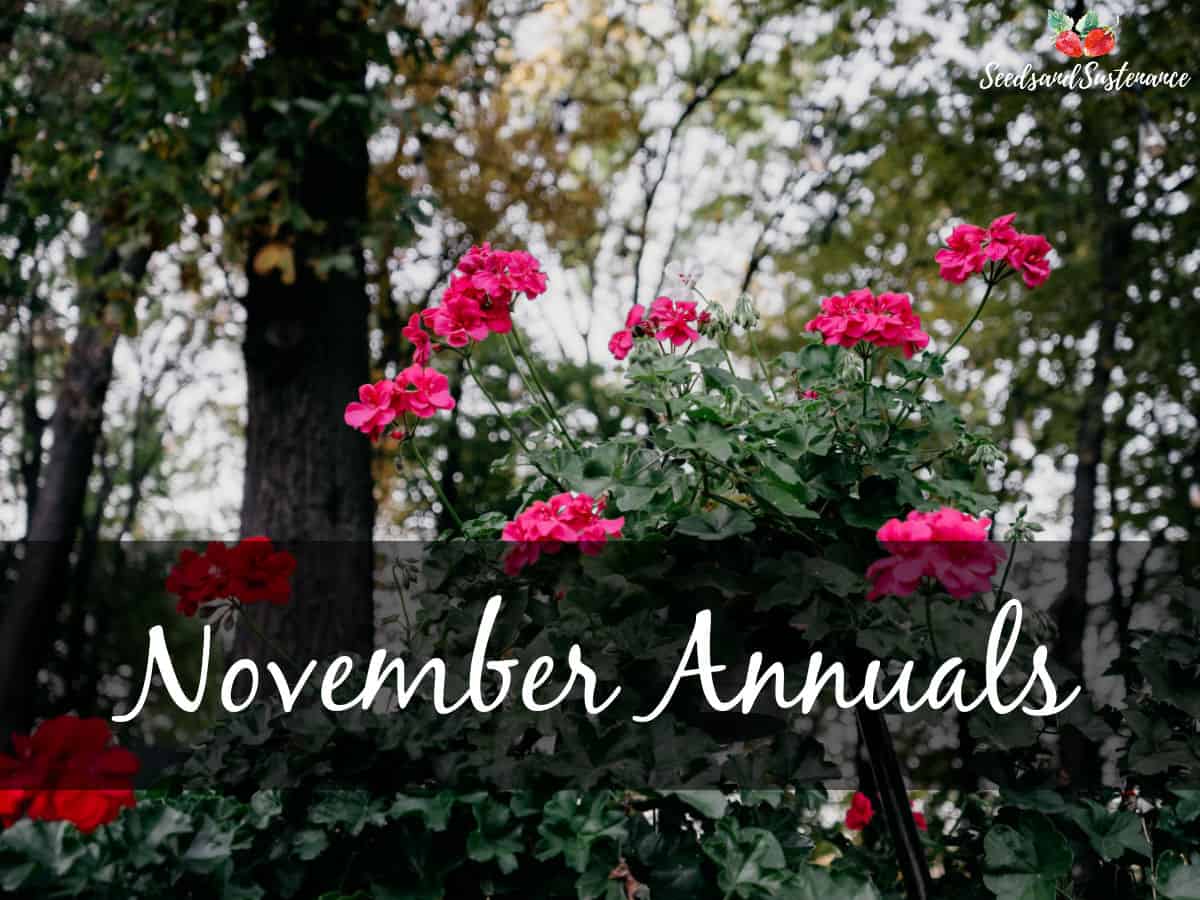 Now that you have prepped your garden, it's time to start planting some of the beautiful cool-season annuals that thrive in Southern California.
November Annuals To-Do List:
Some great options for zone 9 and 10 gardens include pansies, petunias, snapdragons, and violas. These flowers are perfect for adding a splash of color to your winter garden, and they'll also attract bees, butterflies, and other beneficial pollinators.
If you're looking for something a bit more unique, try out foxgloves or cyclamen—both varieties will add a touch of exotic beauty to any landscape. And don't forget about ornamental cabbage and kale! These hearty plants can withstand cooler temperatures, and their vibrant colors will definitely make an impression on passersby.
Be sure to provide plenty of water for your newly planted annuals, especially during warm days (Yes! we still get warm days in November here in Southern California) and dry Santa Ana winds. Keep them well-watered until they are thoroughly rooted and well-established.
Fertilizing your annuals once a month can help ensure they stay healthy and flower prolifically throughout the winter. I like using a fish emulsion since it's absorbed immediately by the plants and helps build soil health. You can get the one I use HERE.
No November garden is complete without staying on top of deadheading (removing spent flowers) your annuals to help them bloom abundantly all season long. You can leave the seed heads out for birds to enjoy.
For geraniums, continue fertilizing them (except the most scented types) with a balanced fertilizer, though the dosage should be reduced by half through the cooler months. These cheerful plants will also help ward off pests such as slugs and aphids that tend to hang around during wintertime. Ivy and zonal types of geraniums will usually continue to bloom throughout fall, winter, and early spring. To encourage more blooms, periodically remove spent flowers from these varieties as they fade away over time.
For sweet peas, many varieties are in good supply this time of year, and it's the perfect time to plant seeds for beautiful blooms come Spring. Make sure you add these beauties to your November gardening list. Mixing early-blooming (also called "short day") varieties will give flowers earlier than others.
For wildflowers, broadcasting wildflower seeds in November is an excellent way to add another layer of vibrancy to your garden. Make sure you spread them just before a rainy period to improve germination. After spreading the seed evenly over some prepared soil, rake the area lightly to provide more opportunities for successful germination and growth. Once the seedlings are established, and you can tell the difference between them and weeds, stay on top of weeding to keep your wildflowers from becoming overrun with unwanted weeds.
November Gardening Tips for Perennials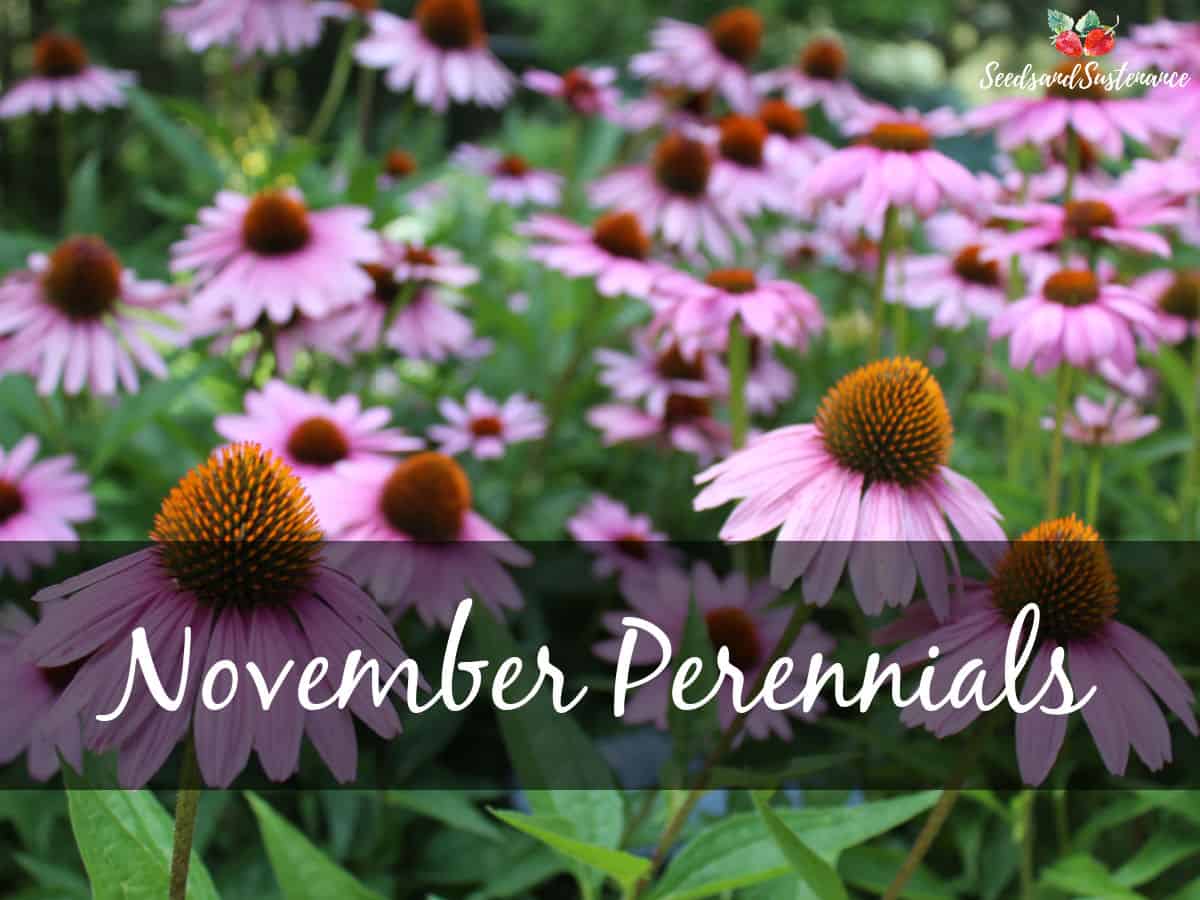 November is a great time to plant perennials in Southern California. In zone 9 and 10 gardens, many perennial plants will thrive even during this cooler season.
Some of the best perennials to plant in November are:
- Lavender
- Rosemary
- Sage
- Mexican Bush Sage
- Coneflower
- Black-Eyed Susan
- Coreopsis
- Gaillardia
- Clematis
These plants will all thrive and establish deep root systems in the cooler months and burst into bloom come springtime. Be sure to cover their roots with a thick layer of mulch or leaf litter when planting them to help protect them from cold temperatures. The extra protection will keep weed seeds from germinating and competing with your new plants. After they have been planted, no additional fertilizing is needed until Spring.
A few other low-maintenance perennials include catmint, coreopsis (tickseed), gaura, salvias, yarrows, and Russian sage. These no-fuss plants are also great for attracting pollinators such as hummingbirds and bees.
For an added layer of texture or color to your garden beds, try adding ornamental grasses like muhly grass or blue fescue. They add year-round interest without the fuss!
November Perennial To-Do List:
Shrubs and perennial plants that are low maintenance and drought-tolerant are great options for this time of year. Some other dependable choices include lavender, salvia, Mexican oregano, manzanita, thyme, and irises, as well as California poppies and blanket flowers.
As always, when planting perennials this month, be sure to mulch around their base to retain moisture during the colder months ahead. Additionally, make sure to water them regularly (check the soil first!) until they become established in the soil. Applying a slow-release fertilizer after planting can also help ensure success in no time!
Spend some time trimming dead or damaged foliage from your perennials and dividing them when needed. This will help promote better health and more vigorous growth in the coming months.
Consider replanting/refreshing short-lived perennials like Columbine, Delphinium, Euryops daisy, Felicia daisy, foxglove, lavender, Marguerite daisy, Nemesia, oriental poppy, Pelargonium, Penstemon, Phygelius, Scabiosa, and Verbena to help keep your garden fresh and vibrant.
Cut back varieties like Aster, baby's breath, campanula, columbine, coral bells, coreopsis, daylily, dianthus, gaillardia, most geraniums, goldenrod, Japanese anemone, lamb's ears, lions tail, oregano, oriental poppy, penstemon, phlomis, rudbeckia, Russian sage, salvia, Scabiosa, shasta daisy, Stokesia, valerian, verbena, and yarrow to keep the garden tidy.
Avoid cutting back agastache, gaura, lamium, lavender, nemesia, penstemon, and thyme since these varieties don't do well with pruning.
For perennials that die back completely during the winter months, like butterfly weed, bleeding heart, caladium, calla, dahlia, echinacea, Kniphofia, Liatris, true lilies, monkshood, obedient plant, and Thalictrum, simply wait until they have become completely dry and brittle before cutting them back to the soil level. Be sure to mark their location to prevent accidental damage.
For perennials like alstroemeria, armeria, euryops daisy, forget-me-not, hellebore, marguerite daisy, and viola, prune and shape them as needed.
Avoid pruning frost-sensitive varieties like begonias, heliotrope, impatiens, lamium, pentas, and Plectranthus until warm weather returns.
Keep dead-heading spent flowers to keep your garden fresh and tidy.
Keep on top of weeding, as many weeds thrive in cooler weather and can easily take over the garden.
Clematis can offer a heavy second bloom spike in late summer or early fall. Resist the temptation to prune them until January, as their foliage may already look ragged and dry this time of year. Reduce watering significantly or even completely to help it enter a brief dormant period. There is no need to apply any more fertilizer.
For poinsettias, if you're attempting to "color" your poinsettia for Christmas, keep up the regimen of fourteen hours of complete darkness per day, five to six hours of direct light or indirect light, and a high phosphorus fertilizer. Additionally, if outdoors, protect the plant from high winds to avoid breaking the stems. No fertilizing is needed until Spring!
For California native plants, plant them now through February to help establish strong root systems. Keep up with deadheading and weeding. For frost-sensitive varieties, wait until warm weather returns before pruning.
For Fuchsias, no fertilizing is needed this month. However, if you are in a coastal garden with minimal frost, this is the time to cut your fuchsias back. Generally, fuchsias are cut back about ½ to ⅔ of their size and can be done at the same time as repotting if necessary. Gardeners in cooler inland locations will wait until mid-February for this annual pruning task. Lastly, make sure to keep up with any deadheading or weeding for the best health and vigor.
November Bulbs, Rhizomes, and Tubers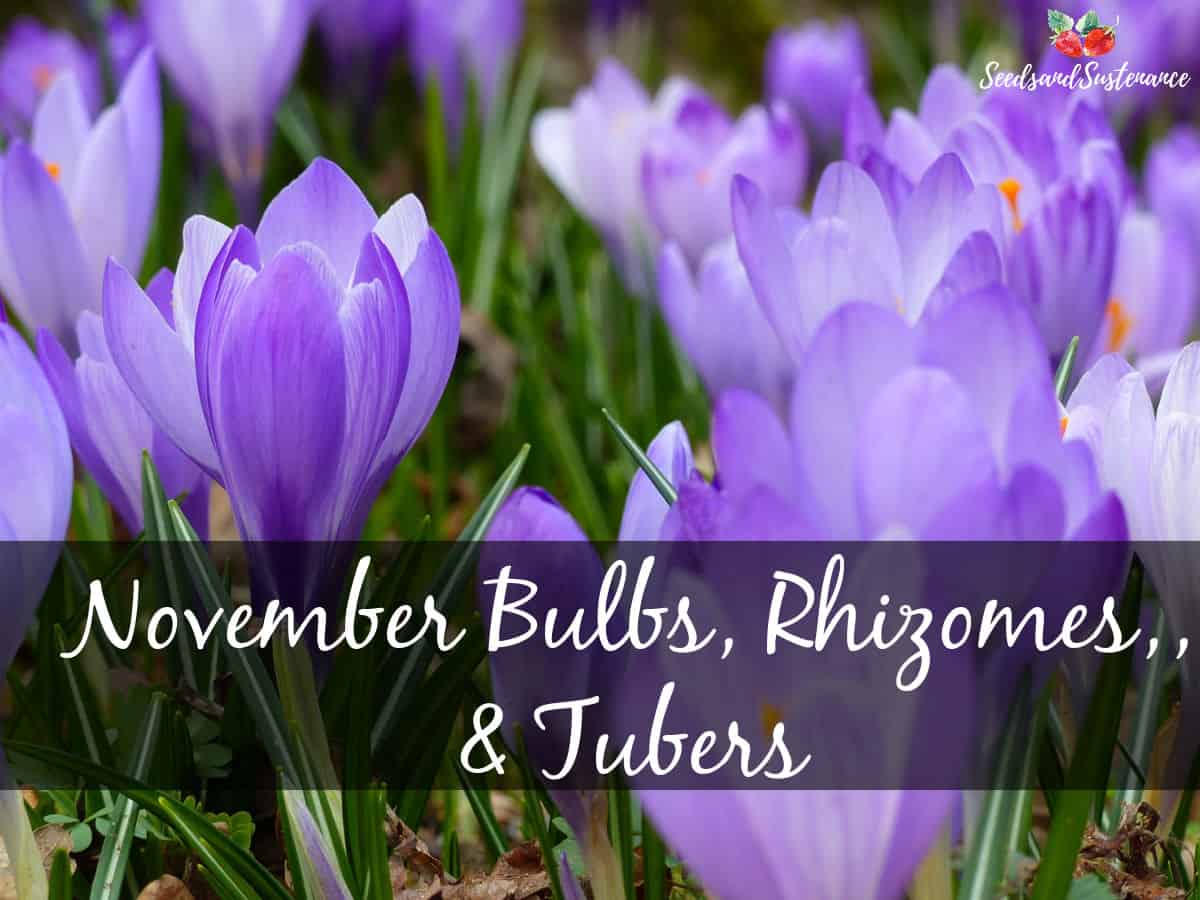 Planting bulbs, rhizomes, and tubers in November is a great way to add color and texture to your garden this time of year. Plant fall-blooming crocus, Nerine, Oxalis hirta, Sternbergia, and Zepheranthes now for additional winter interest.
Consider planting Hippeastrum bulbs (usually referred to incorrectly as "Amaryllis") while the supply is good at your local nursery. Cyclamen plants can also provide blooms from now through March or April next year if planted now as small plants.
November Bulbs, Rhizomes, and Tubers To-Do List:
Bearded Iris is a great choice for fall planting in November in zones 9 and 10, as they are dormant and can be planted up until the ground freezes. Planting no later than mid-November is recommended. Dig a hole no deeper than 2 inches, keeping the crown of the rhizome slightly above soil level. For best results, amend your soil with compost or other organic matter before planting. Plant no more than ten bare rhizomes per square foot, and water in well. Be sure to feed your "repeat blooming" varieties with half-strength fertilizer.
Dahlias are no exception to the November gardening rule. They should now be allowed to go to sleep for the winter, and you should withhold all fertilizing and drastically cut back on the watering. Along the immediate coast, they may be reluctant to go dormant, but it is important that you force the issue by withholding all irrigation now. Powdery mildew is totally normal this late in the season and can be ignored.
Tuberous Begonia should no longer be watered or fertilized, as the warm weather has passed for their growing season, and they need to enter a dormancy period. Gently lift the entire plant out of the soil, tuber and all. Lay it in a sunny spot to dry off for a couple of days. After the soil is thoroughly dry, remove the stem (it should almost fall off) and pull off most of the roots. Carefully separate and store the tubers, not touching each other. They can be stored in trays covered with slightly damp peat moss, sawdust, or vermiculite until springtime, when they can be replanted again.
November Fruiting Plants
This is the perfect time of year to plant cane berries and strawberries and get them well-established before next Summer.
With cane berries, such as blackberries and raspberries, now is the time to prune the canes that bore fruit earlier this year to the ground. These will no longer produce fruit. However, do not prune the new canes that sprouted from the soil this spring; they will produce next season's crop. For low-chill, subtropical raspberries (including the famous "Bababerry"), wait until next month for pruning.
For strawberries, you should begin planting them in November if you live in zones 9 and 10. If you live in a colder climate, wait until January or February. Plant no more than six plants per square foot (remove weaker ones as needed). The soil should be amended with organic matter such as compost, and the rows should be wide enough for easy picking and maintenance. After planting, mulch heavily with straw to help keep weeds down and maintain moisture levels. Strawberries planted now will have time to develop before winter really sets in. However, if you don't find any pre-chilled bare roots in stores near you, consider buying potted plants from nurseries instead. Just remember to pinch off the first two or three sets of flowers your young plants produce so they can better focus their energy on root development.
For grapes, many varieties (especially one called 'Fantasy') can offer terrific fall color to the garden and should be pruned back no later than mid-November. Reduce or eliminate irrigations, especially along the coast, to help the vines enter their dormant winter period. Powdery mildew may be on the foliage now. However, treatment this late in the season is rarely of any value. Sometime around Thanksgiving should be your first application of dormant disease control (assuming the foliage has dropped or completely dried up). There is no need to fertilize your grapes until next year.
November Fruiting Trees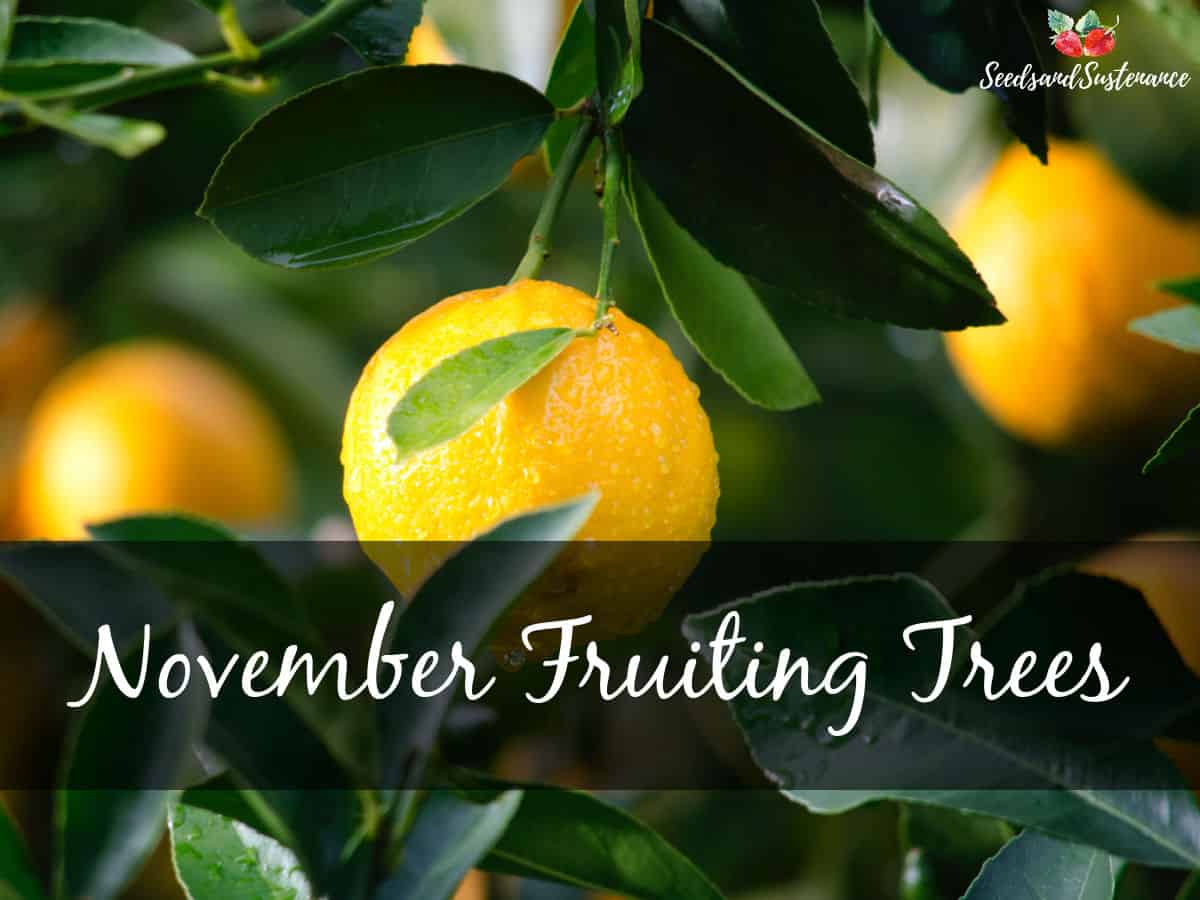 November is a great time of year for planting trees if you live in Southern California.
Just make sure you select varieties that are suitable for your particular climate zone, especially in regard to fruiting tree varieties. If you choose the wrong trees without doing your research on the required chill hours, you might find yourself caring for a tree that will never give you fruit here in our mild climate.
I recommend picking up The New Sunset Western Garden Book to learn about the best tree varieties to plant in your unique area.
November Fruiting Trees To-Do List:
Most deciduous trees should be pruned no later than mid-November in order to minimize storm damage and reduce the risk of fungal diseases.
Late this month is also an excellent time to prune most fruiting trees (except for tender sub-tropical trees like Ficus, Coral Tree, Avocado, Citrus, etc.).
Don't forget to give your newly planted fruit trees a good deep water now so that they can develop a solid root system before summer.
Be sure to stake, or re-stake, small and newly planted trees now to prevent wind damage in the next few months.
By November, most deciduous fruit trees have lost their leaves, so no more watering is necessary. In fact, give your fruit tree a break and reduce or eliminate irrigation, which will help the tree enter its dormant winter period.
Around Thanksgiving, apply the first of three applications of dormant disease control. This is a liquid spray product containing either Copper Sulphate or Lime-sulfur (but do not use Lime-sulfur on Apricots). Both of these are organic products and help reduce infestations of diseases such as Peach Leaf Curl, Shothole Fungus, Apple Scab, and Brown Rot.
For citrus, fertilizing should be done no earlier than February. Many tangerines/mandarins will be ready for harvest this month. Only feed potted citrus with a very light application of fertilizer. Check the soil for both indoor and outdoor citrus plants before watering during the fall and winter months.
For avocado trees, don't be alarmed by a lot of leaf drop on mature plants; this is normal for avocados at this time of year. Irrigate as needed to keep the soil moist but not wet. The fall avocado fruit season is upon us now, with some late-season fruiting varieties like Fuerte, Pinkerton, and Zutano potentially ready for harvest. There is no need to fertilize this time of year since avocado trees only grow during warm weather. Also, keep in mind that adding any new avocado trees to your garden should wait until warm weather returns.
November Shrubs and Vines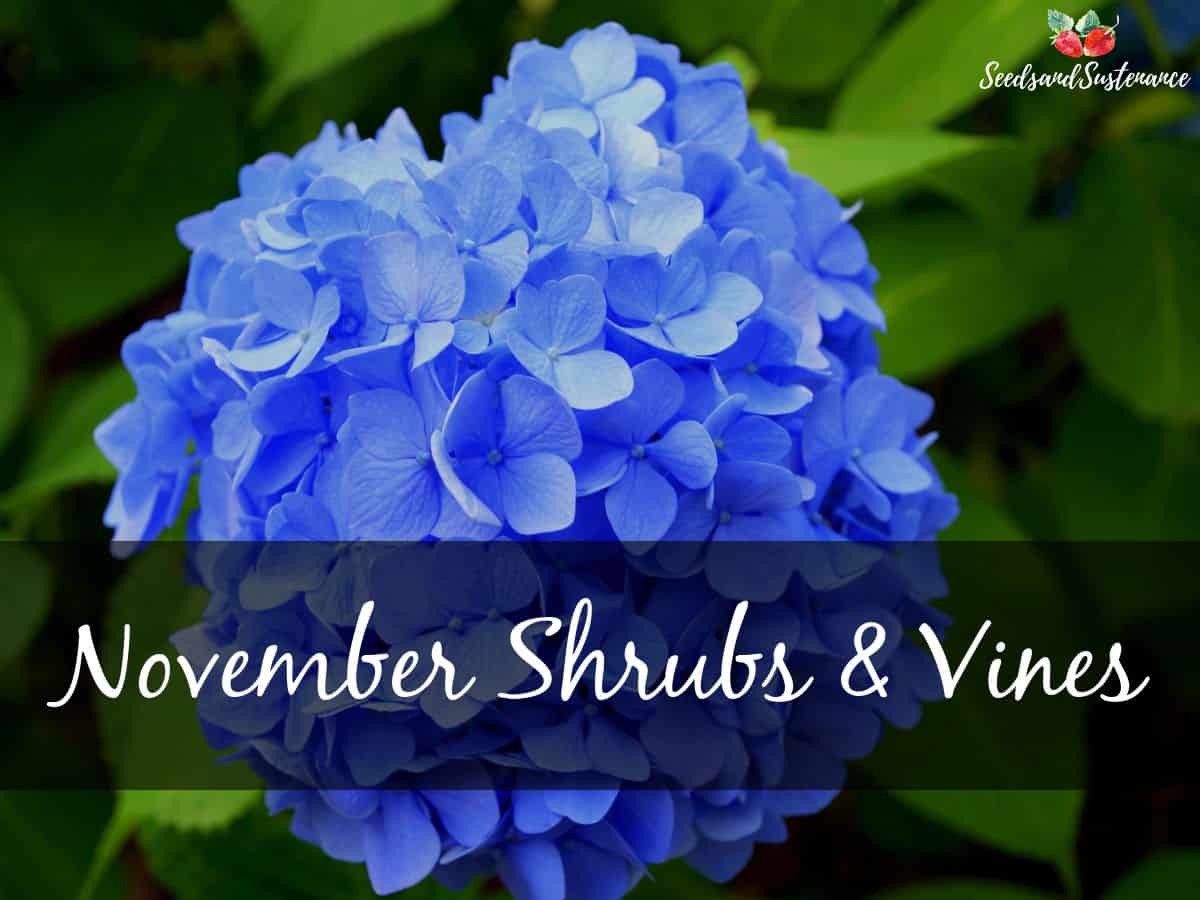 November is a great month for planting shrubs but go easy on the pruning. Hard pruning at this time of year can leave the plant with scars that will last throughout winter. Consider adding some shrubs to your garden with fall interest, such as cotoneaster, heavenly bamboo, hollies, persimmon, pomegranate, pyracantha, or toyon.
When it comes to vines, no more pruning should be done until next spring. Prune away any dead wood now and reduce irrigations as vines enter their dormant period.
November is also a great time to plant camellias. They love our cooler temperatures and wet winters, so this is the perfect month for planting them in Southern California gardens. Camellias do not need to be fertilized until they finish blooming next year, as their growth cycle is finished for the year. You should be able to see next year's blooms forming on the plants now.
For gardenias, no more fertilizing is necessary for the year. These are getting ready to withdraw through the winter months. Don't be surprised if several yellow leaves develop. This is quite normal. Gardenias do not like windy conditions. Since Santa Ana winds are common this time of year in Southern California, take care to shield your gardenias.
For hydrangeas, no pruning should be done this late in the year. Many hydrangeas, especially older varieties, bloom on one-year-old stems. Pruning now will eliminate most of next year's flowers. However, if you have newer varieties that bloom on new growth, they can be pruned if necessary. If you want to try and get blue or lavender flowers on a pink flowering plant, start applying Aluminum Sulfate to the soil now. White-flowered varieties will not be affected.
For roses, no more pruning is necessary for the year. Consider leaving the faded flowers on the plant after the last big bloom of the season rather than cutting them off as you usually would. They often set attractive seed heads, called rose hips, especially old-fashioned varieties. These hips can be quite colorful and are an attractive addition to the fall garden. Also, no fertilizing should be done this time of year since roses only grow during warm weather. If your roses suffer from powdery mildew, you can remove the affected foliage. Feed your roses with a light application of fertilizer and reduce irrigation during the colder months.
For wisteria, no pruning is necessary now. You'll make your final pruning of the year next month. The foliage may look a bit dry and even show tip burn, which is typical this time of year. Watering needs are minimal, and no fertilizing should be done at this time. In cool, inland locations, you may see some golden-yellow autumn color before the leaves drop in December.
November Tropical and Subtropical Plants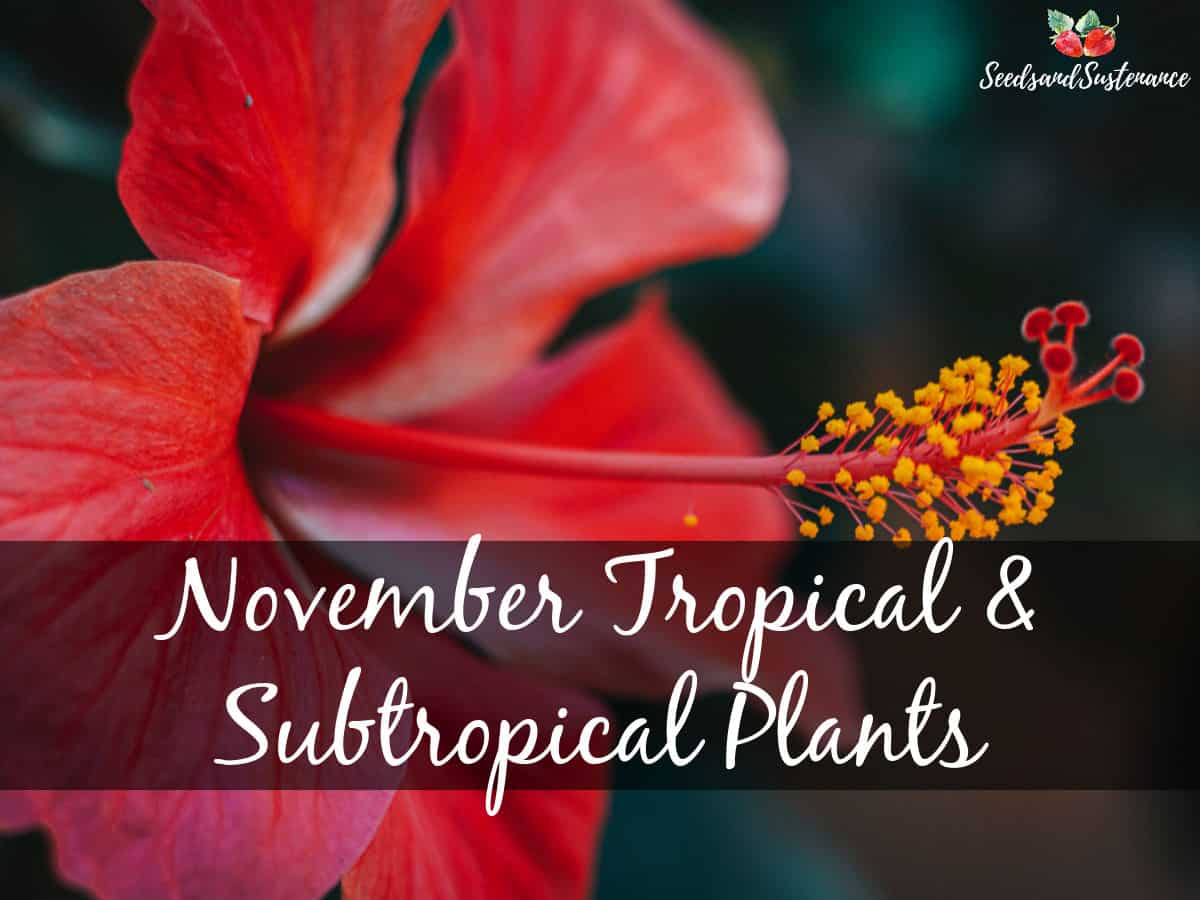 Many tropical and subtropical plants are now looking their best, while some may be looking a little worse for wear.
November Tropical and Subtropical Plants To-Do List:
Look for lots of colors on Plumerias, Hibiscus, Bougainvillea, and ginger. These plants no longer need fertilizing during November as they begin to harden off in preparation for winter. Reducing irrigation also helps them get ready for the cool months ahead.
Plants like citrus are getting set to bloom in December or January, so no pruning is necessary at this time. Keep an eye out for pests such as mealybugs and scale, which tend to be active this time of year. Be sure to remove any remaining old fruit to help the tree produce its new crop.
November is a great month for tropical and subtropical gardening in Southern California - enjoy it! With careful watering and no fertilizer, you'll be rewarded with beautiful blooms next spring.
Avoid planting tropicals and subtropicals until late spring or early summer of next year.
November Gardening Tips for Vegetables
Warm-season veggies are done now, so remove them and add them to your compost bin to make room for cool-season vegetables like greens and brassicas.
November Vegetable Garden To-Do List
For root crops like carrots and beets, no more planting is necessary at this time; these should have already been planted by mid-October. November is also a great month for salads - lettuce, spinach, chard, radishes, arugula - all can be planted now or transplanted from starts this month.
November is also the perfect time to get garlic, onions, shallots, and leeks from sets (little bulbs) in the ground no later than the middle of the month for larger bulbs and cloves.
Sow carrots, beets, kohlrabi, and turnips no later than mid-November. Chard can still be planted in December in some areas, so it's worth giving it a try if you haven't planted any yet.
Consider putting in successive plantings of many vegetables a couple of weeks apart from each other. This will ensure a constant, uninterrupted supply of delicious veggies and greens for the kitchen.
Crops like cabbage, broccoli, cauliflower, etc., may be attacked by caterpillars at this time. Handpicking is usually enough to keep these pests in check; otherwise, use BT (Bacillus thuringiensis), a safe, effective, and organic solution.
Harvest your horseradish now for the best and most potent flavor of the season.
If you haven't already, be sure to mound any potatoes you planted last month.
Be sure to keep an eye on watering by checking the soil a few times per week. I like to keep the garden fed using a fish-emulsion fertilizer not only to feed my plants but the soil as well.
You can harvest jicama now.
November Herbs
November is still a great time to plant many herbs. Cool-season and some other herbs that can be planted in the fall include anise, arugula, borage, chervil, chives, cilantro, comfrey, dill, fennel, feverfew, garlic chives, lavender, lemongrass, lovage, parsley, and rosemary.
November herb garden To-Do List:
To ensure success with your herb garden this month: plant no later than mid-November; work a light application of fertilizer into the soil before planting; water thoroughly and deeply after planting; reduce irrigation during colder months; mulch around plants to maintain even moisture levels.
You may also enjoy reading:
June Gardening Tips and To-Do List