What to Plant in December
Do you know what to plant in your Southern California garden during the month of December? If you live in a garden oasis like I do, you know how unique and beautiful its climate can be. Those of us who have the privilege of gardening during December in zones 9 or 10 are fortunate to have a large variety of plants to choose from for our gardens. We can honestly grow food all year long!
While some cool-season vegetables such as radishes and turnips, collards and peas, or cabbage and carrots are great choices for certain areas, there is an abundance of flowers and other edibles that make fantastic additions to your winter garden this time of year.
I know it can be challenging to keep up with all the gardening advice out there, but don't worry--I've got you covered!
Today, we'll take a look at some of the best fruits, veggies, and flowers to plant for temperate gardens in the winter months. So, whether you're living in Zone 9 or 10, painting the town red with poinsettias, or planting vegetables that can survive cool nights, I'll give you an easy planting guide on selecting and caring for plants that will thrive through December.
December is a fantastic month to plant new things you've never tried before. And, if nothing else, it's a great time to relax and plan for spring and summer crops - even crops for next winter!
What Vegetables to Plant in December - A Gardening Guide for Southern California
When it comes to vegetables, there are several varieties that can be planted in December in Southern California with great success. Most leafy greens such as kale, lettuce, spinach, and Swiss chard do well when planted during the cooler months, so if you haven't started any of these, it's time for planting!
Root vegetables such as potatoes, carrots, radishes, and onions should also be planted at this time of year before they get too hot in the summer months. Other cool-season veggies like broccoli, cauliflower, and other brassicas thrive in December as well.
You can successfully grow a wide variety of vegetables in Southern California in December, including:
Artichoke
Arugula**
Asparagus
Beets**
Bok choi and pak choi
Broccoli**
Cabbage**
Carrots**
Cauliflower**
Celery**
Chard**
Collard greens**
Fava beans**
Fennel**
Garlic
Green onions**
Kohlrabi**
Leeks
Lettuce** (like romaine, butterleaf, iceberg, and more!)
Mesclun mix**
Mustard greens**
Parsnips
Peas**
Radish** (sow directly in warmer parts of the garden)
Spinach**
Short-day onions** (yes, you can still grow onions!)
Turnips**
** Means that you can succession sow these varieties every few weeks. (The planting time on these is very flexible, which makes them great for beginners)
In order to have the best success when planting vegetables and root crops in December in Southern California, it's important to take into consideration the amount of sunlight that your garden will receive each day. Most vegetables require at least six hours of direct sunlight per day for optimal growth.
Adding fertilizer regularly will also ensure that your veggies get the boost they need during this slower growing season.
I like to use this fish emulsion fertilizer along with homemade bokashi tea. Apply every two weeks according to the instructions on the packaging.
Lastly, be sure to top up your garden beds with compost to help add even more nutrients to the soil.
Flowers to Plant in December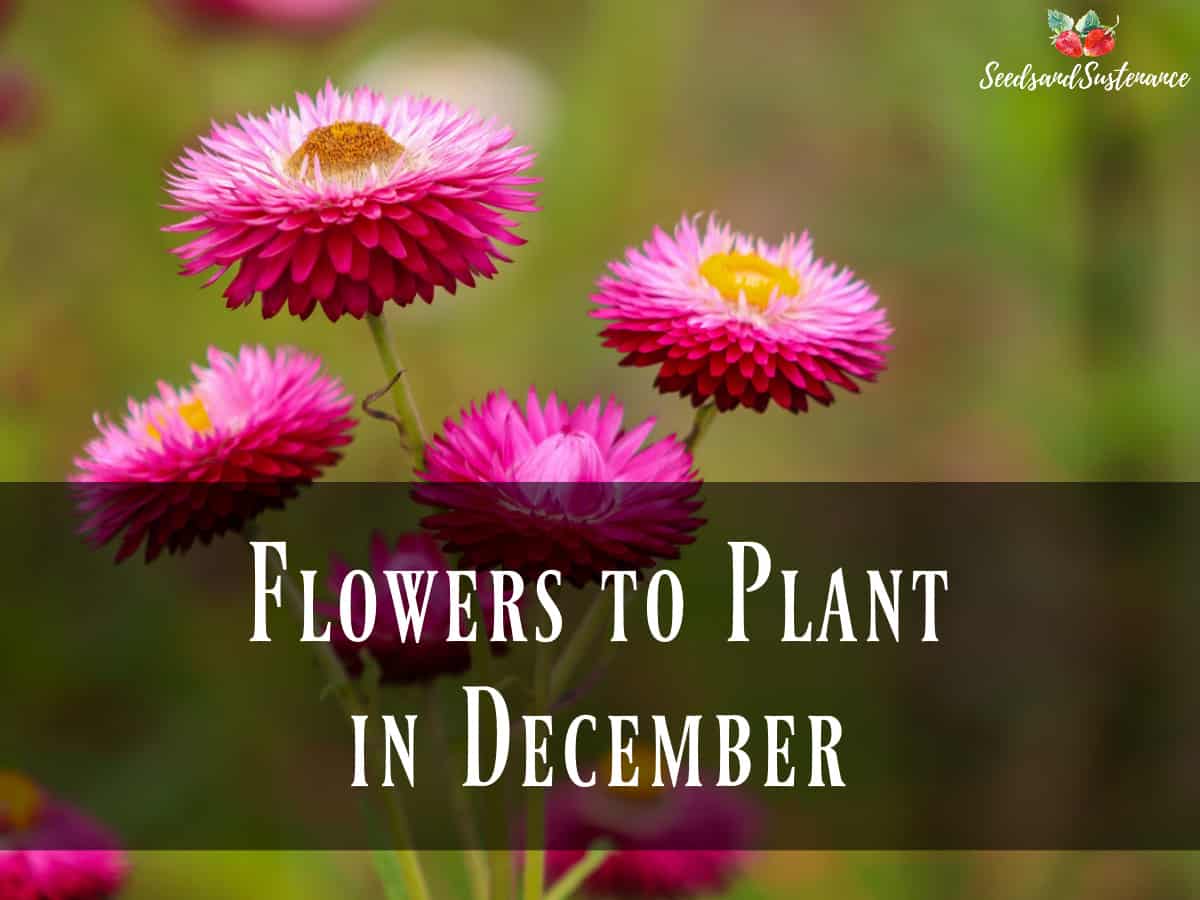 December may not seem like the ideal month for planting flowers, but in Southern California, it is actually a great time to start planting. Not only do seasonal varieties of flowers bloom during this time of year, but also perennials and some fruit trees!
Adding color and texture to your garden beds with flowers will attract pollinators such as butterflies, bees, and hummingbirds.
Recently, I have really started getting into growing more flowers in the garden, and I cannot sing its praises enough! Not only do they look beautiful, but they also help deter pests and invite beneficial pollinators and predators to every raised garden bed, patio garden, nook, and cranny you add them to.
Some popular flower choices that thrive in Southern California climates include:
Alyssum
Borage**
Calendula**
Cosmos
Chrysanthemum
Daisies
Echinacea
Flax**
Foxglove
Hollyhocks
Gaillardia
Marigold**
Morning glory
Nasturtium
Pansies
Sage
Scabiosa**
Strawflower**
Sunflower**
Sweet peas
Yarrow
** Means that you can succession sow these varieties every few weeks.
For those looking for something more exotic or unique, there are plenty of other options, such as passionflower, snapdragons, Canterbury bells, and lilies.
Planting native species is also an excellent choice as these will be more adapted to the local microclimate and will be easier to maintain. You can toss the seeds of native varieties evenly on top of the soil in the desired areas and then gently rake them in before a rain storm to help them germinate.
No matter what your preference is, adding flowers to your garden in December can help bring a bit of cheer and beauty in the winter months, even if you just have a container garden.
Herbs to Plant in December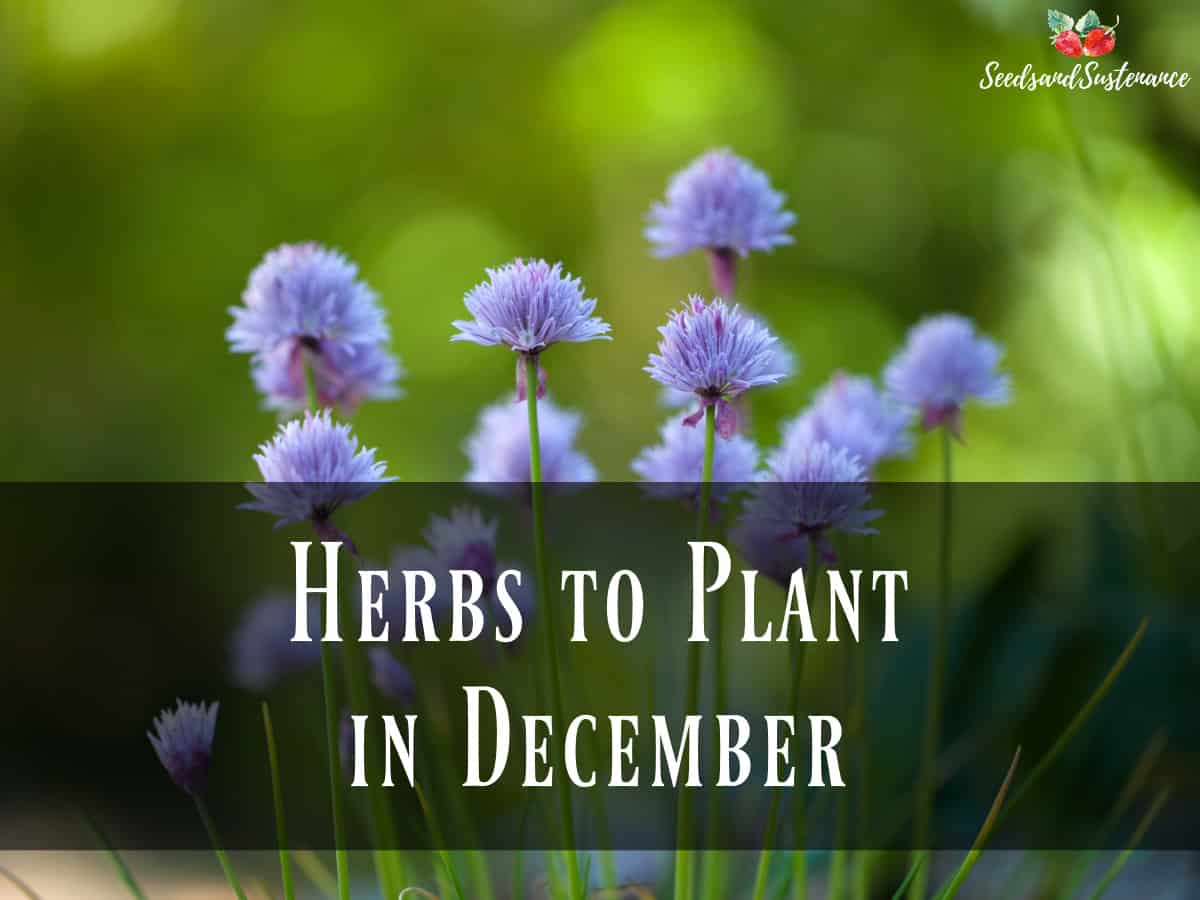 Herbs are a great way to add flavor and nutrition to your meals, and they're also easy to grow during December - especially for varieties that tend to bolt in warmer weather, like cilantro.
Some popular herbs to grow in December in Southern California include:
Chives**
Cilantro**
Dill**
Lovage
Marjoram
Oregano
Parsley
Savory
Sorrel
Tarragon
** Means that you can succession sow these varieties every few weeks.
Herbs like basil, mint, and thyme can also be planted in the winter months in zones 9 and 10. A few exciting varieties I'm planting this year include holy basil, bee balm, and pineapple mint.
Not only do herbs have culinary uses, but they can also be used medicinally as well - especially when made as tea or infused into honey.
Harvesting fresh herbs from your very own garden is a great way to save money on grocery store prices while still enjoying the taste of fresh-from-the-garden flavor.
Planting fragrant herbs not only adds beauty to your outdoor space, it also attracts beneficial insects like bees and butterflies who help pollinate other flowers around them - including the flowers on your fruit and vegetable varieties. Herbs can also deter pests and make them less likely to feed on your winter crops.
Frequently Asked Questions About Planting Vegetables, Herbs, and Flowers in December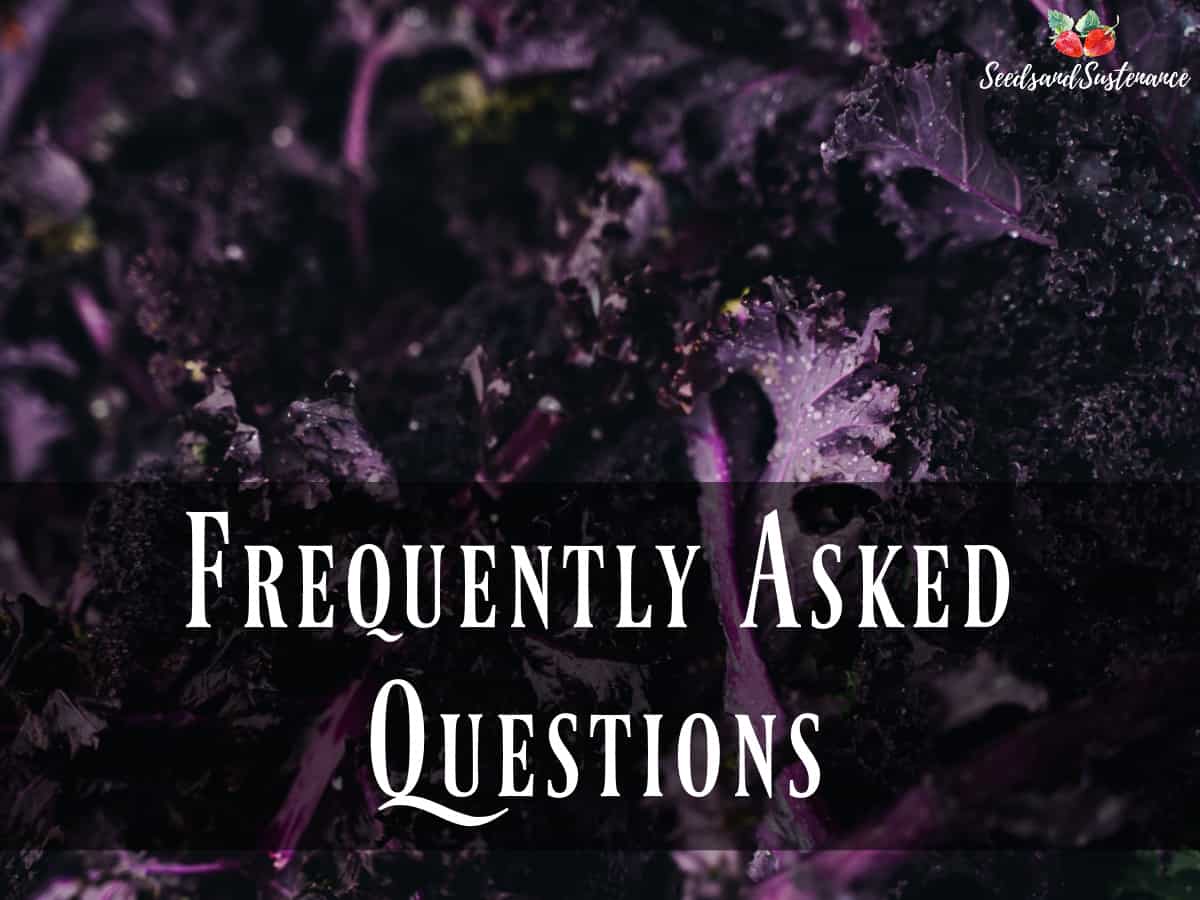 Which Counties are in Southern California?
The counties that makeup Southern California include:
Imperial County
Kern County
Los Angeles County
Orange County
Riverside County
Santa Barbara County
San Bernardino County
San Diego County
Ventura County
You can find out which zone you live in HERE, as I mainly discuss gardening for zones 9 and 10.
What are the best flowers to plant in December in SoCal?
The best flowers to plant in Southern California in December are:
Borage**
Calendula**
Cosmos
Chrysanthemum
Daisies
Flax**
Foxglove
Gaillardia
Marigold**
Morning glory
Pansies
Sage
Scabiosa**
Strawflower**
Sunflower**
As well as poppies, wildflowers, and other native varieties.
All of these plants thrive in the mild temperatures that Southern California provides during the winter months.
When should I start seeds for a Fall & Winter Garden?
When it comes to planning a cool season garden, the best time to start sowing seeds is in late summer.
Depending on where you live, this could be anywhere from August to early September. In Southern California, for example, the ideal time to sow lettuce, cabbage, turnip, celery, beets, and carrot seeds is around mid-August. If you want to grow kale, radishes, or peas in your winter garden, then you should plant their seeds a few weeks later.
Once the seedlings have grown big enough to handle being transplanted outdoors, they can be moved into your garden beds. Cool season crops such as various brassicas and cut-and-come-again greens can also be planted during this period and do well in the winter.
If you are starting seeds during the cooler months, you will need to start them indoors (like a warm windowsill or greenhouse) from November until summer to ensure good germination. You can then move the seedlings outdoors once they have produced their first set of true leaves.
If you don't do this, you will have poor germination rates and stunted plants, so it's always best to give your seeds the proper conditions they need to produce hardy seedlings that can withstand pests and diseases.
What can I plant in Southern California in the winter?
Quite a few veggies, herbs, and flowers! December in SoCal offers many opportunities for planting as long as you start your seeds indoors, where warmer temperatures will ensure good germination.
Some of the vegetables you can plant include brassicas, mizuna and other asian greens, spinach, mustard greens, kale, lettuce, radishes, and more. These are all cold-weather crops that will thrive in the mild weather we experience here in Southern California during this time of year.
If you are looking for something that is more of a perennial vegetable to plant, garlic makes a great choice. Plant it in December and you'll be harvesting your own fresh garlic bulbs the following fall.
Short-day onions also make a great option and can provide you with delicious onions throughout the year. Other perennials that can be planted in late winter include asparagus, artichokes, and strawberries.
Tomatoes (especially cold-tolerant varieties like stupiche) and peppers (like early jalapenos, serrano, and anaheim) can also be planted in December, but they may not produce fruit until later in the season. It's important to remember that some vegetables prefer cooler temperatures for optimal growth, while others need warmth to thrive.
What Gardening Can I Do In Winter?
Since Southern California has such a mild climate, there can still be plenty to do in the garden if you decide to plant cool-weather crops.
Unlike other parts of the country, most areas in zones 9 and 10 don't have to "put the garden to bed" during the cold winter months. In fact, we can keep sowing and keep growing a staggering variety of veggies, herbs, and flowers all year round. This can lead to two issues - one; burnout from the tasks that never end from one month to the next, and two; your garden itself can become depleted and struggle to thrive as it endlessly uses up nutrients in the soil.
In order to keep your plants strong and the soil healthy, it is super important to regularly add thick layers of compost and mulch to your garden beds. This will provide a slow release of nutrients all season long that will continually feed your garden. You can also use all-natural fertilizers like fish emulsion that not only feeds your crops but the soil as well.
Bokashi compost and bokashi tea will also provide additional nutrients for the garden. You can bury the compost in trenches between your plants and dilute the tea to use as a fertilizer and nutritive foliar spray.
Keep feeding your compost worms and collect the worm castings for the garden as needed.
Aside from keeping the garden itself healthy, you can continue to sow vegetable, herb, and flower seeds indoors all season long.
Practice polycultural interplanting to attract pollinators and beneficial predators.
Continue to add material to your compost pile so that you have plenty to add to your garden next season.
And, lastly, keep planting seeds! Living in our unique climate gives us the opportunity to experiment with endless varieties! So dive in and find the ones you will come back to again and again.
Broccoli and cauliflower are two brassicas that I'm finally getting to plant for the first time this year, and I went with about five different varieties that I can enjoy through winter and spring! This gives me the opportunity to see which variety does best in my garden.
What flowers will last through the winter?
Winter in Southern California can be unpredictable, but there are some flowers that will last through the winter season.
Violas and calendula are all beautiful flowers that can survive the winter months. Violas come in various colors and sizes, making them perfect for any garden.
Sweet peas are also an excellent option for a winter garden as they are hardy and easy to care for.
Calendula is another flower that will last through the winter months and adds a splash of color to any garden.
All three of these flowers will bring beauty to your winter garden and will last until spring arrives.
When should I start my vegetable garden in California?
When it comes to starting a vegetable garden in California, the best time to begin depends on the type of vegetables you plan to grow. Are you a tomato connoisseur? Do you love really hot peppers? Or are you into cabbages and other brassicas?
For most vegetables, it is best to wait until after the last frost of winter has passed before sowing seeds or transplanting seedlings outdoors. Planting can take place in late fall and early winter for some cool-season crops, such as lettuce, bok choy, spinach, and kale. If you're looking to plant tomatoes and other warm-season varieties, transplant your seedlings by late spring.
If you are an experienced gardener, you may be able to get away with planting earlier than this. However, if you are new to gardening in California it is best to err on the side of caution and wait until after the last frost.
For those who want a jump start on their garden, many vegetables can be started indoors from seed and transplanted outside when they have germinated and grown into sturdy seedlings.
What are the best fruits and vegetables to grow in Southern California?
Southern California is an ideal place to grow various fruits and vegetables, even in winter. Root vegetables like radishes, beets, and sweet potatoes are all excellent varieties to consider. Carrots are a great source of vitamins and minerals and can be grown in the winter months.
Radishes are easy to grow and have a mild flavor that pairs well with salads or sandwiches. Kale is a hardy vegetable that is packed with nutrients and can be harvested throughout the year. Tatsoi is another nutrient-dense vegetable that grows well in Southern California's climate. Beets are sweet and earthy and can be eaten raw or cooked. Parsnips have a unique flavor that adds depth to soups or stews. Spinach is a leafy green that grows quickly in warmer climates like Southern California's. Lastly, lettuce is an easy-to-grow green that can be used as the base for salads or wraps.
With so many delicious options available, it's no wonder why Southern California is such an ideal place to grow fruits and vegetables!
When to plant vegetables in Southern California
When it comes to planting a garden in Southern California, timing is key. The best time to plant vegetables is after the last frost of the season. Beets, carrots, cucumbers, bok choi, celery, broccoli, and cabbage can all be planted outdoors at this time. To start seeds indoors for transplanting later on in the season, cauliflower and brussel sprouts may be started indoors at this time as well.
For the experienced gardener who wants to get an early harvest of these vegetables, starting seeds indoors is a great option. Spinach and broccoli are especially suited for indoor seed starting as they require more time to mature before harvesting. Once the seedlings have grown their first set of true leaves, it's time to transfer them outdoors.
Best fall and winter vegetables for California gardens
Fall and winter are great times to grow vegetables in California gardens. Cool weather crops such as cauliflower, cabbage, kale, broccoli, and various asian greens all thrive in the mild temperatures of winter.
Cauliflower and cabbage are great additions to any garden because they can be harvested from late summer through early spring. Kale is a hardy green that can be harvested throughout the season. Broccoli also grows well in California gardens during the cooler months.
Sprouts are a great source of nutrition and can be grown year-round with some protection from frost. Lettuce and mesclun mix are both cool season vegetables that can be enjoyed from late summer through early spring. With careful planning and preparation, California gardeners can enjoy a variety of fresh vegetables throughout the cooler months.
What flowers to plant in December in Southern California?
In Southern California, December is a great time to plant flowers. Some of the best options for this time of year are pansies, snapdragons, and poppies.
Pansies are hardy and can tolerate colder temperatures, making them ideal for winter planting. Snapdragons come in a variety of colors and sizes, so they can be used to create an eye-catching display in your garden. Poppies are also a great choice for December planting as they will provide beautiful blooms throughout the spring season.
Other flowers that do well in Southern California during December include dianthus, primrose, and sweet alyssum. Planting these flowers now will ensure that you have plenty of color in your garden when the warmer weather arrives!
For more gardening tips, be sure to check out the following: