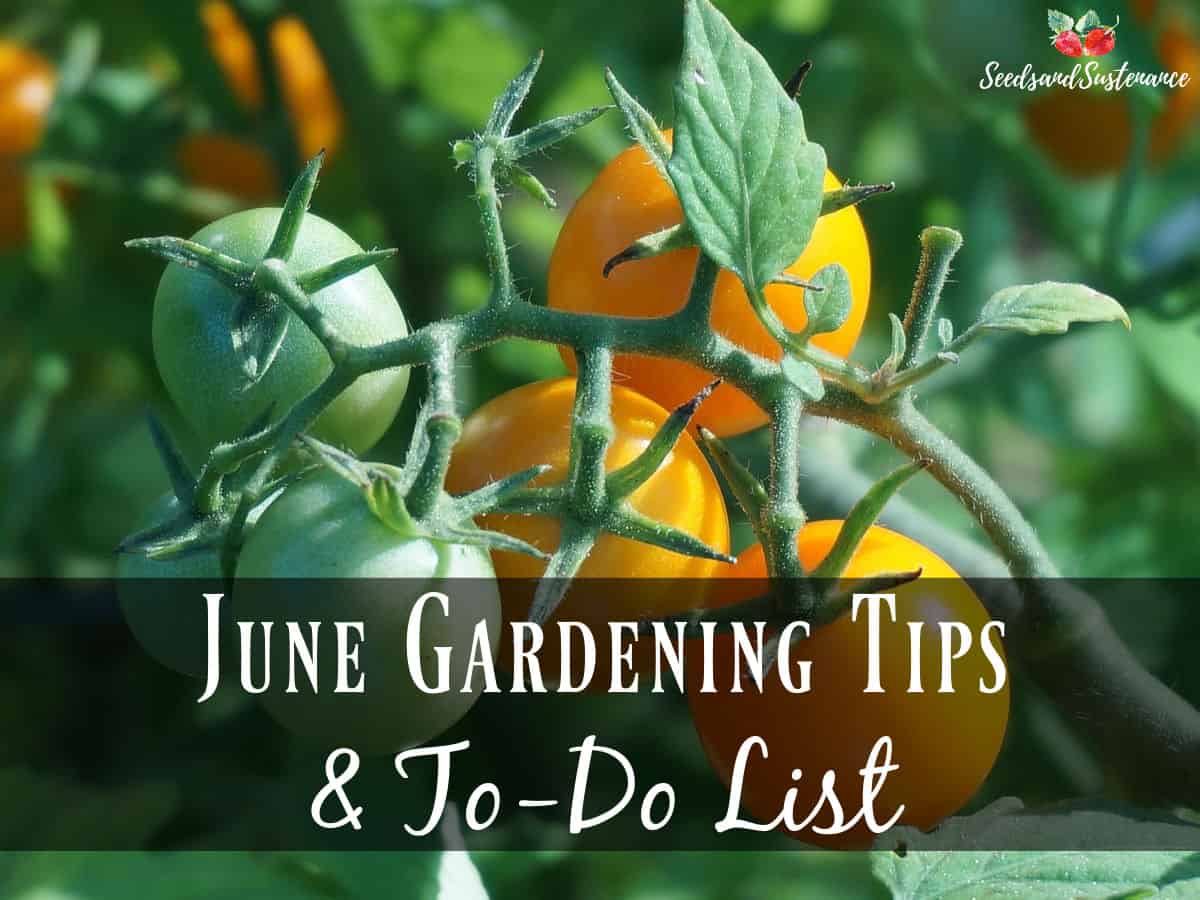 June is where the apex of gardening in Southern California really shows its colors and abundance. Many flowers are still in full bloom, vegetables are producing like crazy, herbs are taking over the garden, and a variety of fruiting plants are laden with the bounty of Summer.
June Gardening Tips and To-Do List for Zones 9 and 10
The month of June is all about maintaining the garden and bringing in that harvest. Here's a list to help you keep track so that your garden can thrive during the summer months.
June Annuals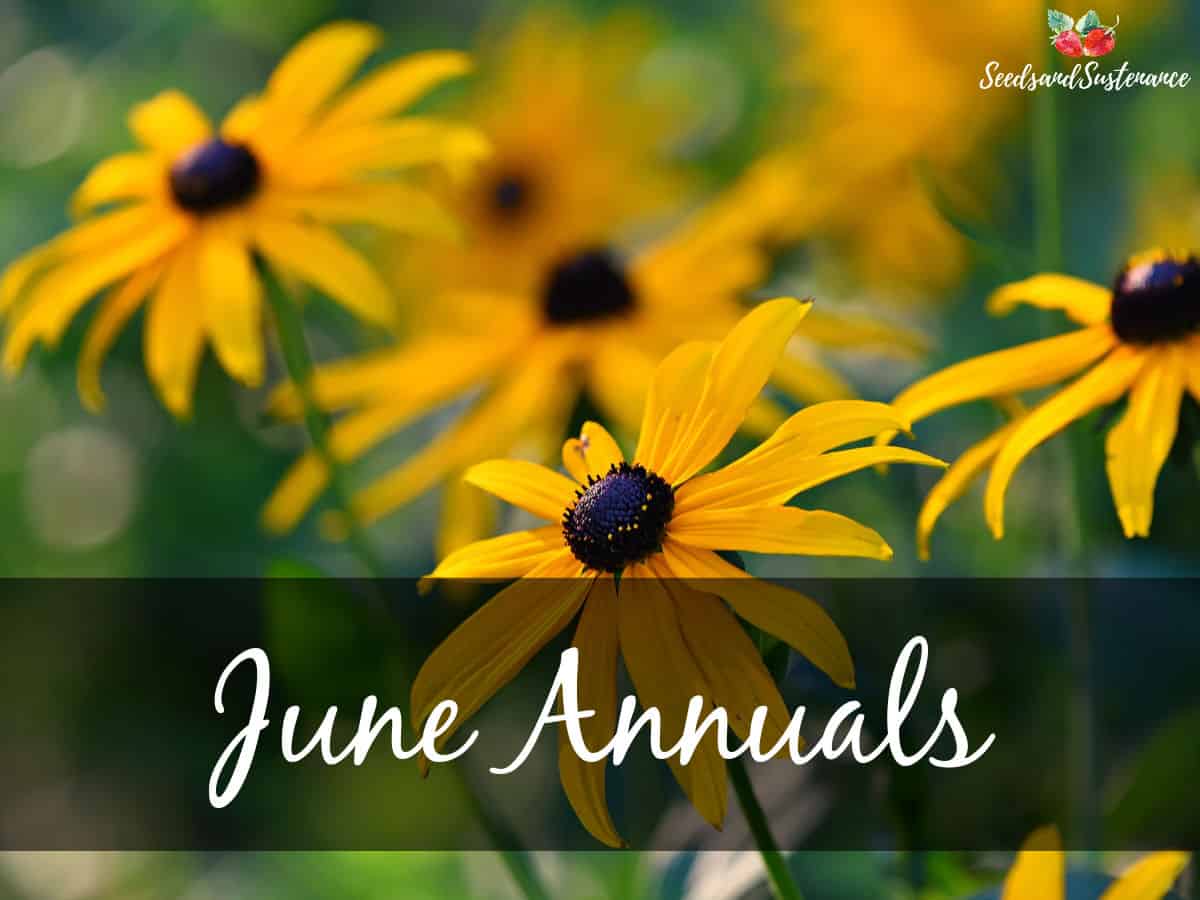 Warm-season varieties are bursting at the seams this time of year as the temperature rise. Get ready for spectacular blooms and an explosion of color.
Here's how to keep things looking and performing their best:
June Annual To-Do List
• Since the days and nights are consistently warmer, be sure to keep things well-watered and generously mulched.
• Most annuals are heavy feeders. Be sure to top up on fertilizer throughout the season to keep things healthy and vibrant. Dr. Earth is an excellent all-purpose fertilizer.
• Dead-head often to keep those blooms coming. This will help keep the garden filled with beautiful flowers and attract beneficial pollinators and predators that help your garden thrive.
• There is still time to plant warm-season annuals, so get them in the ground before the intense heat of July and August sets in. A few options to consider include petunias, cosmos, marigold, and coleus. If your area gets particularly hot, consider planting zinnias, dahlias, and salvia.
• Avoid heavy pruning this time of year.
• If pests and diseases are starting to take over, spray if necessary or remove affected growth.
• Sweet peas are finishing up for the season. If they are covered in powdery mildew, it's time to cut them down to the soil. Leaves those roots in the ground! They will help restore nitrogen in the soil.
• For wildflowers, hold off on planting anything new until winter.
June Perennials
During the Summer months, perennial care comes down to maintenance and general upkeep. If you're looking to plant something new, you still have a little bit of time left before it gets too hot. Just make sure to keep plants well-watered throughout the hotter months until established.
June Perennial To-Do List
• Keep feeding your plants as needed. Again, Dr. Earth is great.
• Dead-head any blooms to keep fresh blooms coming and to keep plants tidy.
• Keep all perennials well-irrigated unless you are growing California native varieties that don't appreciate wet soil in the summer.
• For fuchsias, keep an eye on moisture, especially if they are grown in hanging baskets. They should be in full bloom right about now.
June Gardening Tips for Bulbs, Rhizomes, & Tubers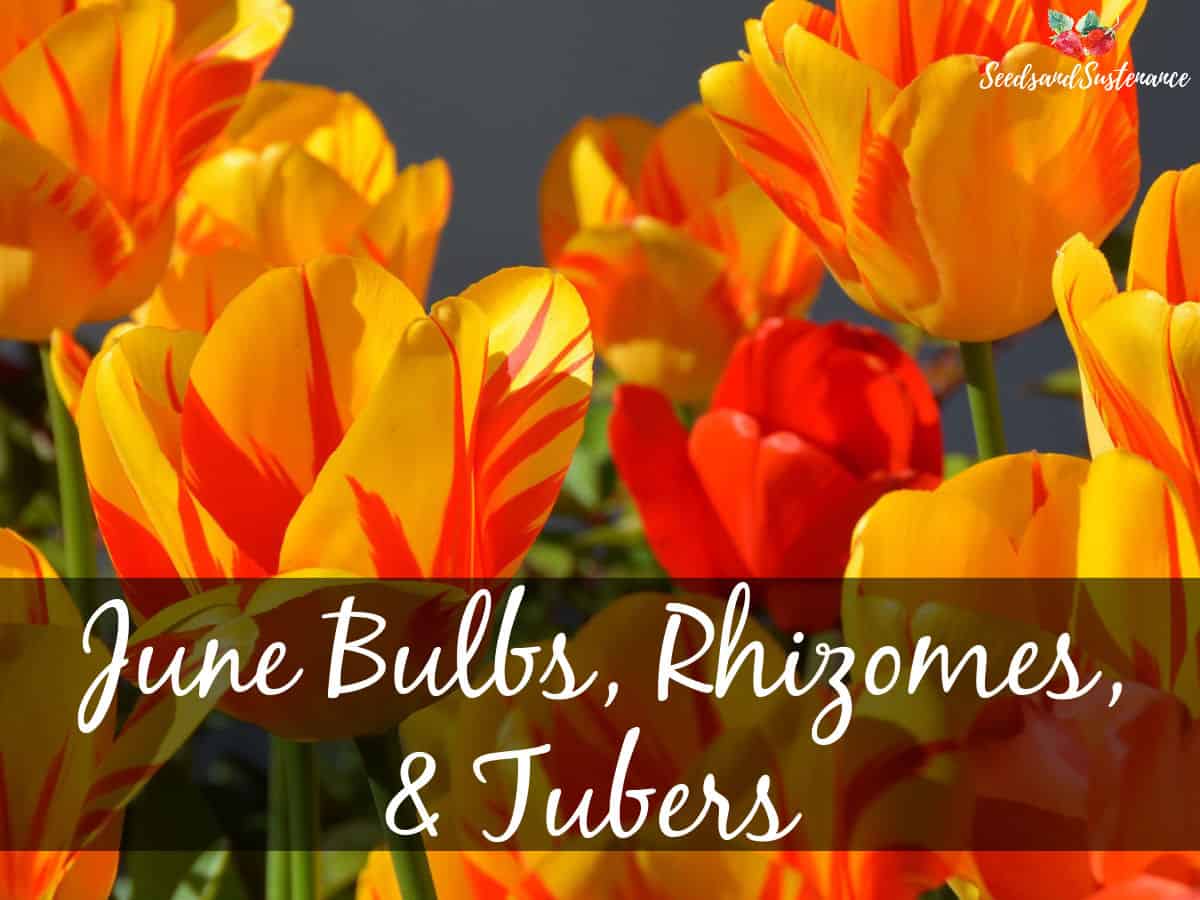 Spring bulbs are really dying back right about now, but a few summer varieties like Allium, gladiolus, and tritelleia should be in full bloom.
Bulbs, Rhizomes, & Tubers To-Do List
• If your Spring varieties have fully died back, you can begin trimming away the dead growth and composting it. If they have not fully died back, keep the foliage in place and continue watering.
• Bulb varieties like tulips, hyacinth, and crocus can be pulled and discarded once they have finished blooming.
• Bearded irises will be finished up about now. For both once-blooming and repeat-blooming varieties, trim their spent stalks after the last bloom fades, then fertilize.
• For tuberous dahlia varieties, provide careful staking to keep stalks upright and tidy. Deadhead frequently, and provide them with regular deep watering and feeding.
June Fruiting Plants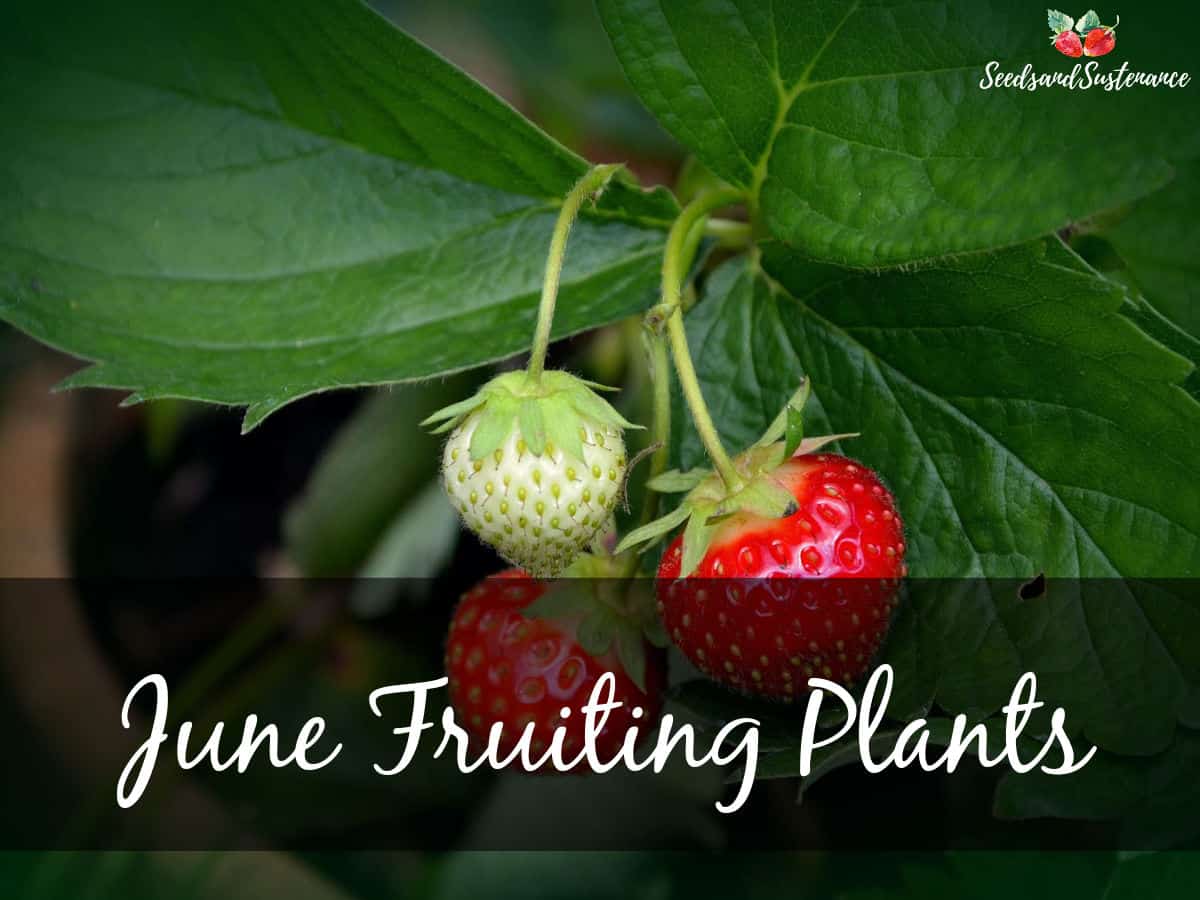 During the heat of Summer, the most you will need to worry about as far as fruiting plants are concerned is making sure that everything is getting adequate water.
Planting anything new is generally a bad idea which is why most online gardening shops stop shipping fruiting plants for a few months until temperatures cool down.
June Fruiting Plants To-Do List
• Make sure to check your irrigation systems to ensure that everything is in working order. Do you need to add more? Now is the time to do so.
• Double-check that everything is well mulched. This is going to help keep your plants happy and your water bill low. Some good options include straw (from a reliable source the spic gardening) or, in my case, dry leaf and grass material from my own yard. I don't use any sprays, which is what you need to be very careful of when buying mulch – there is no faster way to kill off your garden!
• For strawberries, keep them fertilized (use one for acid lovers), and be sure to pinch off any runners. Check them regularly for pests like spider mites, slugs, snails, and pill bugs.
• For grapes, apply a granular fertilizer that contains trace minerals every 6-8 weeks to keep fruit production coming. Make sure to deep water them weekly.
June Gardening Tips for Fruiting Trees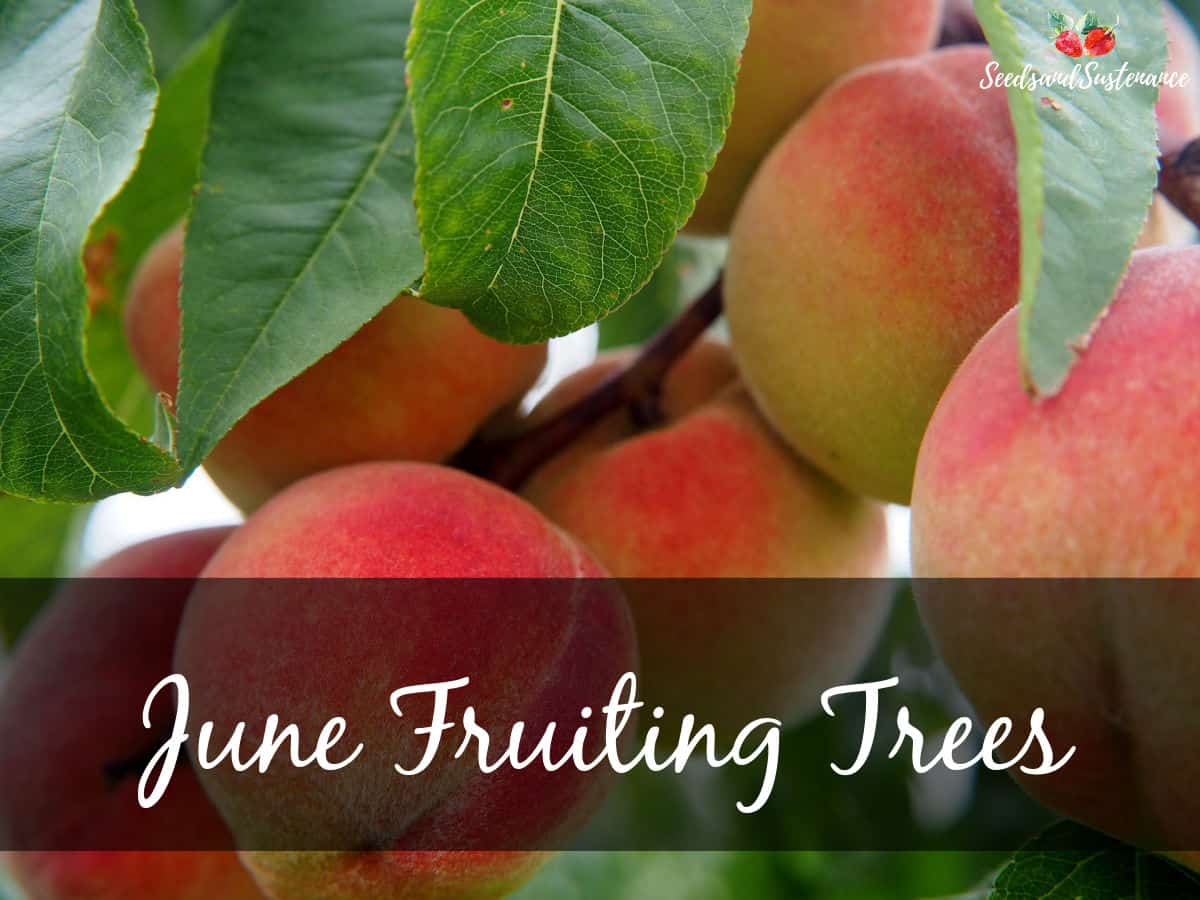 Many fruiting trees are producing loads of fruit this time of year, especially stone fruit varieties like peach, nectarine, and apricot.
Fruit Tree To-Do List
• Be sure to monitor soil moisture and ensure that your irrigation systems are working properly.
• Apply a good layer of mulch around your fruiting trees if you haven't already done so.
• Young trees may "drop" fruit. This is normal as the tree determines how much fruit it can realistically sustain. Additionally, you can prune fruit that is growing too close together in order to encourage larger, more high-quality fruit to develop.
• Birds will often devastate fruiting tree crops. To help eliminate or lessen bird pressure, drape your trees with bird netting until harvest is over. Alternatively, you can use nylon bags to cover the fruit individually.
• For Citrus trees, keep an eye on their foliage. If the leaves are green-veined but yellow, apply an iron foliar spray. If you notice ants, check your citrus trees closely for pests that need to be removed. Ants farm pests like aphids, scale, mealy bugs, and whitefly for their sugary excretions.
• For avocados, apply their third and final feeding. Keep them well mulched at all times to keep their roots cool and moist.
June Shrubs & Vines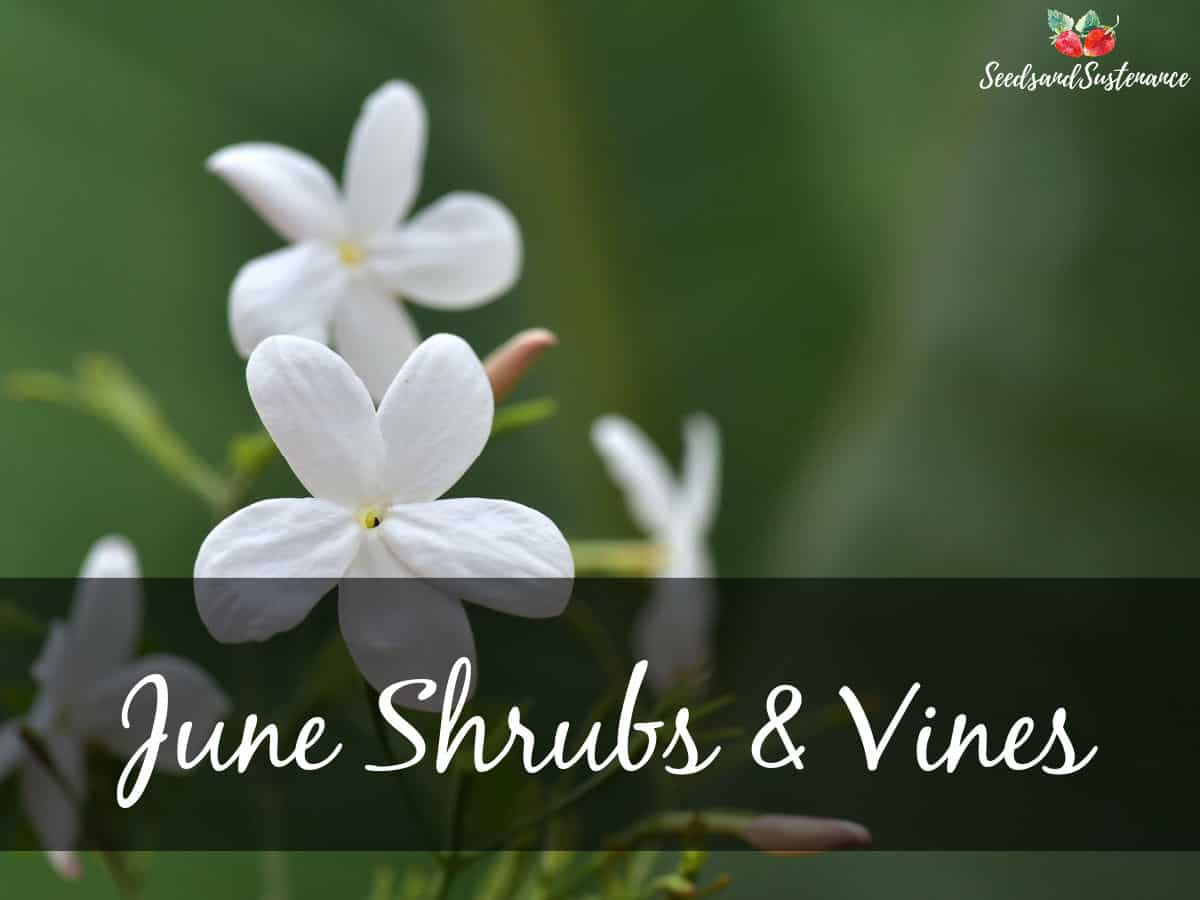 Shrubs and vines do really well in Southern California and should be exploding in a profusion of growth and blooms.
However, avoid planting anything new this time of year since it's far too hot, and you are likely to lose newly sown plants to heat stress. The only exception is the bougainvillea.
Shrub & Vine To-Do List
• Avoid heavy pruning unless you are removing diseased foliage.
• This is the peak blooming time for bougainvillea. Avoid pruning them for now.
• For Azaleas, keep them well-watered and mulched since they have shallow root systems that tend to dry out easily.
• Most camellias have finished blooming for the year. Be sure to apply fertilizer according to when it bloomed (4-6 weeks after it bloomed, 4-6 weeks after the first application, and then 4-6 weeks after the second application for a total of 3 applications). Keep them well-watered and mulched since camellias have shallow roots.
• For gardenias, keep them well-fed with an acidic fertilizer. If the leaves are green-veined but turning yellow, apply an iron foliar spray.
• Hydrangeas should still be blooming in profusion. To encourage new growth (which will bloom next year), keep your plants fed. After a bloom is spent, trim the stem up to halfway down. Do not trim new growth.
• Old garden rose varieties will need their annual pruning this month after their blooms are finished. Keep feeding your roses regularly to encourage beautiful blooms. If you're dealing with a pest called rose slug, apply neem oil spray to the underside of leaves thoroughly and frequently.
• June signals the first time you can cut back established wisteria vines. The next time you can do so is in August and December. Trim vines back by three buds to help contain growth and encourage new blooms. Watering and fertilizing will only encourage aggressive growth, so do so sparingly unless you are establishing a new plant. Be sure to guide new growth where you want it. Trim off the seed pods to keep your wisteria tidy looking.
June Tropical and Subtropical Plants
Tropical and subtropical plants are all thriving this time of year.
Tropical and Subtropical Plant To-Do List
• As an exception to the rule, tropical and subtropical plants do well when planted in the month of June, provided they have ample water available. Make sure the soil drains well.
• Make sure your irrigation is working properly and that your plants are mulched well.
• Apply an all-purpose fertilizer that contains trace minerals to maximize harvest and growth.
June Gardening Tips for Vegetables
Warm-season vegetables should all be thriving in the month of June and producing abundantly. There is still time to start another round of certain varieties to extend their harvest.
Vegetable To-Do List
• If you haven't already, get in another rotation of beans, chard, corn, cucumbers, eggplant, melon, okra, pumpkin, sweet and hot peppers, and tomatoes.
• Keep succession sowing heat-tolerant radishes, carrots, lettuces, and brassicas in cooler parts of the garden for a continual harvest.
• Monitor the growth of your peppers, eggplants, and tomatoes and stake them as needed to keep the plants upright and healthy. This helps minimize disease.
• If you're looking to harvest some pumpkins for Halloween, July 4th is the last date to get them into the ground.
• For melons, now is the last opportunity for the year to start your plants from seed.
• Keep corn well-watered and fed to ensure a reliable harvest. Keep succession sowing from seed every three to four weeks.
• Continue to fertilize your vegetables regularly to encourage high-quality yields.
• Regularly check irrigation, especially as temperatures rise.
• Now is a good time to start harvesting bulbing onions.
June Herbs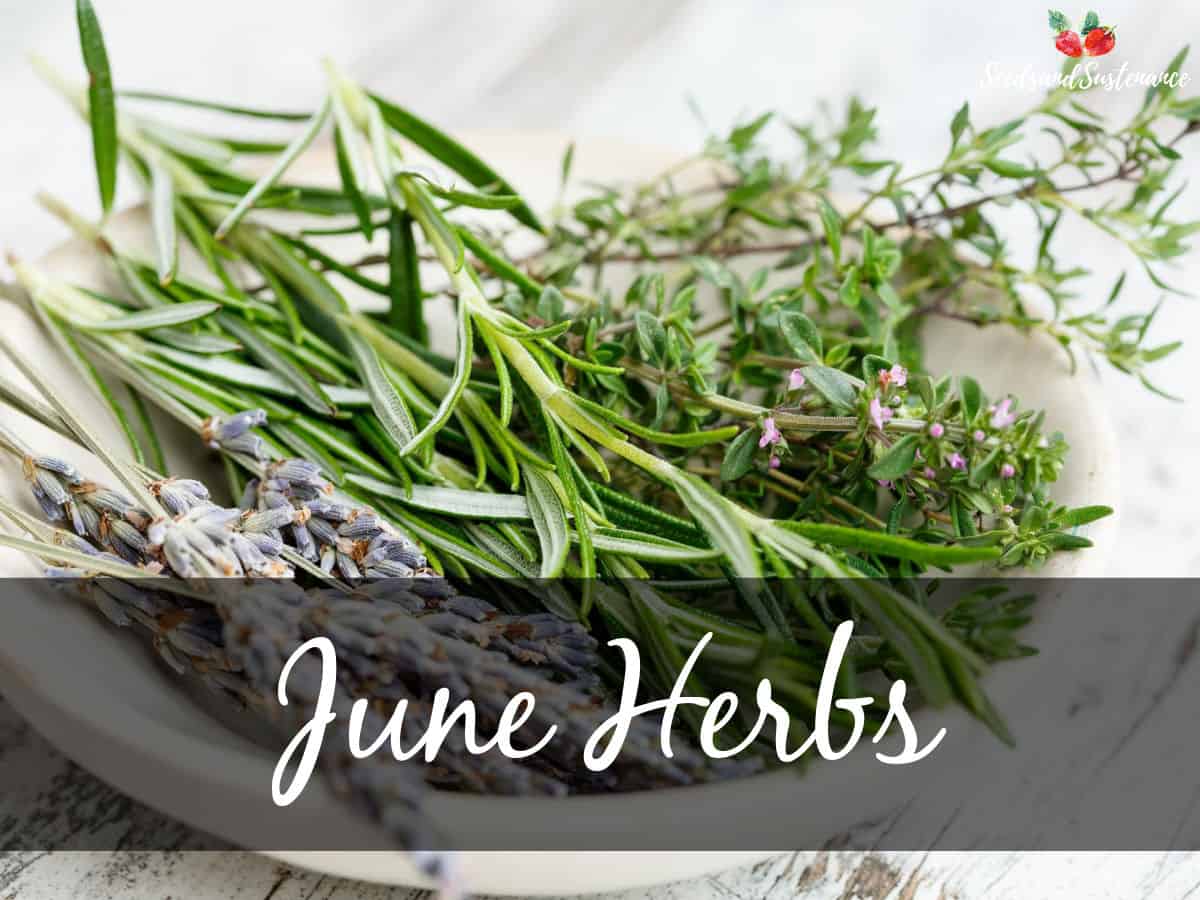 Most herbs will be thriving and in full flavor this time of year.
Herbs To-Do List
• Keep succession sowing basil in cool areas of the garden. Pinch off the flowers to encourage a bushier growth habit, retain flavor, and prolong the harvest.
• If you enjoy summer savory but haven't planted any yet, you still have time to get it in the ground.
June General Gardening To-Do List
The theme of the summer months is to continue feeding your plants regularly as needed and make sure that everything is getting well watered.
• Your garden should be abuzz with beneficial predators. If there is little to no activity, you can buy them online from reputable sources like arbico-organics.com
• Continue to harvest your crops regularly to ensure larger yields. This is especially true for beans, cucumbers, and greens.
• Keep weeding the garden as needed, check irrigation systems, and provide mulch (at least 2 inches)
• Fertilize heavy feeders regularly, especially corn and tomatoes.
• Make sure to start a compost bin if you haven't already. The abundance of summer can feel overwhelming at times, and it can be hard to keep up with how much your garden is providing. Composting what you can't get through will at least feed your soil in months to come, and it won't be wasted.
You may also enjoy reading: