Even though we experience what we call "Gray May" here in Southern California, May still brings a veritable explosion of growth. The warmer temps stimulate all of the crops you've planted for summer, and you may be noticing that what was once a small tomato seedling is now approaching several feet in height already!
I know my tomatoes are already getting tall and setting their fruits fruit for the season to come.
So, what else should you be focusing on as far as what to plant in May in Southern California?
Let's dive in!
What to Plant in May – Zones 9 and 10
There are still PLENTY of crops to transplant or direct sow this month as the night-time temperatures even out and daytime temps rise.
I have found that many cool-season crops (labeled below as "last sowing") can still be grown for one more good harvest, perhaps even two if you get crafty, as long as they are sown in shadier, cooler areas of the garden.
A 40% shade cloth can be very handy here – cuz, let's face it, there's nothing like homegrown lettuce for salads in the heat of summer! Get creative and find those shaded nooks and crannies between taller crops to keep sowing salad greens for as long as possible.
You will thank me later!
What Vegetables to Plant in May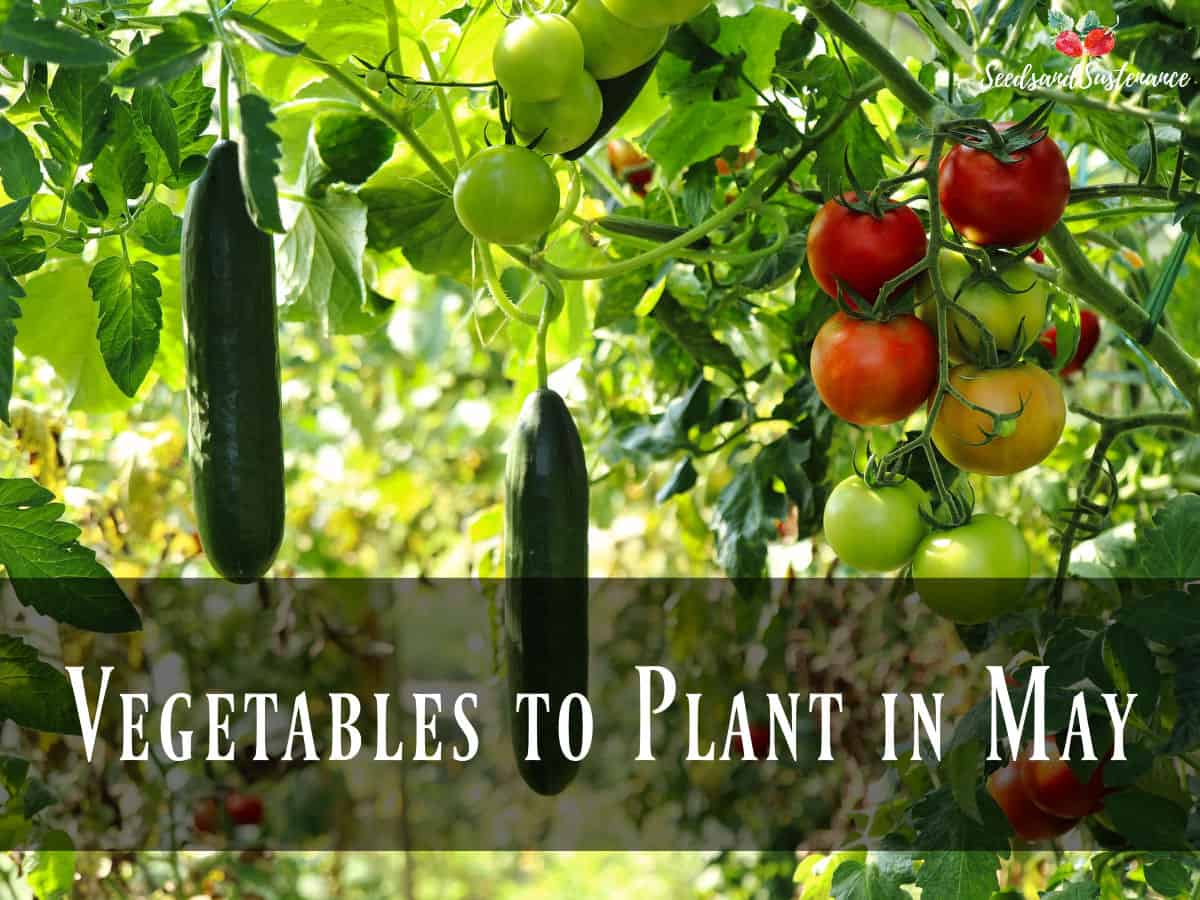 Lots of variety to enjoy yet! If you love artichokes but have never grown them, now is a great time to get them in. You'll have your first crop next year and will thank yourself later.
Another really easy crop to start that will benefit you later is potatoes and sweet potatoes.
Here are more veggies to consider growing in May:
• Artichokes
• Arugula (last sowing)
• Beans (pole and bush) **
• Beets
• Bok choi and Pak choi (last sowing)
• Cantaloupe **
• Carrots (last sowing)
• Chard **
• Collards (last sowing)
• Corn **
• Cucumbers **
• Eggplant
• Gourds
• Green Onions **
• Jicama
• Kale
• Lettuce **
• Lima beans
• Luffa
• Mustard Greens (last sowing)
• Okra
• Peas (last sowing)
• Peppers (sweet and hot)
• Potatoes **
• Pumpkins
• Radish (last sowing)
• Spinach ** - especially heat-tolerant varieties like Sisso, Malabar, and New Zealand
• Squash (summer and winter)
• Sweet Potatoes/ Yams
• Tomatillo
• Turnips (last sowing)
• Watermelon/Musk melons
** Means you can succession plant these crops for maximum and continuous yields.
If you don't have a lot of shade in your garden, this may be the last sowing you can squeeze in for certain crops like arugula, lettuces and greens, peas, cool-weather spinach, carrots, and beans.
You can direct sow corn (a minimum of 12 stalks in order to get decent pollination), okra, melons, cucumbers, pumpkins, eggplant, and heat-loving beans this month since night-time temps have warmed up.
If you grow large pumpkins for Halloween, start your seedlings by the 3-4th week of this month. For more standard varieties, you need to plant them next month.
For ideas, check out what I'm growing this season!
What Flowers to Plant in May
This is still a great time to get more pollinator plants into the ground in order to attract more bees, deter certain pests, and invite more beneficial predators to your garden. Plus, flowers bring even more joy and beauty to the garden.
I'm hoping to get more flowers into my own garden in the coming years as things come together.
The best flowers to plant in May:
• Ageratum
• Amaranth
• Begonia
• Borage **
• California wildflowers
• Cleome
• Coleus
• Cosmos
• Dahlia
• Flax **
• Foxglove
• Gaillardia
• Gomphrena
• Hollyhock
• Hyssop
• Impatiens
• Lisianthus
• Lobelia
• Marigold **
• Petunias
• Portulaca
• Strawflower **
• Sunflowers **
• Torenia
• Verbena
• Zinnia
** Means you can succession sow these varieties.
What Herbs to Plant in May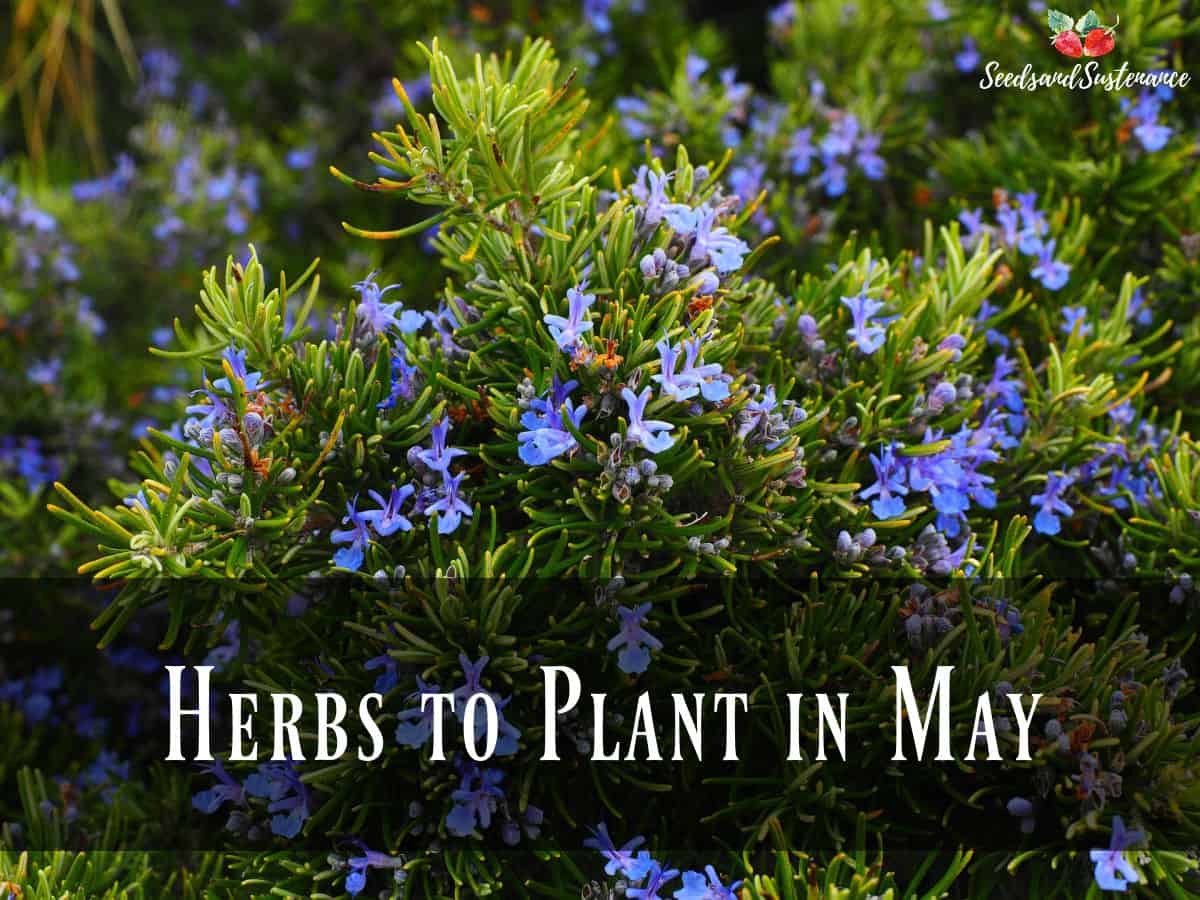 Since we experience "Gray May" here in Southern California, daytime temps are still pretty comfortable for the beginning part of the day, which means that cool-season herbs can still be sown.
This is especially true for basil. At this point in the season, I try to tuck it into shadier areas of the garden or areas that WILL be shadier (like under my tomato plants) in order to extend its harvest.
I simply cannot live without fresh basil during the summer months when Caprese salad and homemade pizza are on constant repeat.
May is also the perfect time to plant ginger root and turmeric since they need a good 4-8 months to develop their tasty roots before the first harvest.
The best herbs to grow in May:
• Basil (last sowing)
• Chives **
• Cilantro (last sowing)
• Cumin
• Dill **
• Echinacea
• Flax
• Ginger root
• Hyssop
• Marjoram
• Oregano
• Parsley
• Rosemary
• Sage
• Savory (summer)
• Sorrel
• Tarragon
• Thyme
• Turmeric root
• Yarrow
** Means you can succession sow these varieties.
If your chives aren't producing as well and they are a year or two old, I recommend replanting them by gently pulling them apart and spacing them out. Often times it's because the roots get too crowded and need some space!
Again, for "last sowing" crops, try to tuck them into shady areas to extend their harvest.
This works well with cilantro and basil.
If you're looking for a complete guide on May gardening tips with a to-do list, check out this post.
You may also enjoy reading: